Disk of 2022 > [Archived] Clasic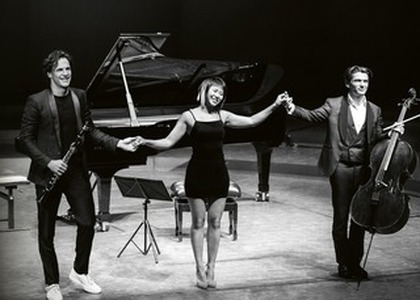 Pianist Yuja Wang, Cellist Gautier Capucon and Clarinetist Andreas Ottensamer - Music box, 3rd of October 2022
Monday, 17 October 2022 , ora 10.29

An album released on 2nd of September: works by Johannes Brahms, performed by cellist Gautier Capucon, pianist Yuja Wang and clarinetist Andreas Ottensamer.
A golden trio - as it has been called by the international press - that has been playing in this format for almost 10 years, since 2013 to be precise, since its ensemble was inaugurated at the Verbier festival.
The disc released on the 2nd of September also includes Sergei Rahmaninov's Sonata op. 19 for cello and piano - a recording that was released, digitally, in advance, last November - we also heard this version in February 2022 on Radio România Muzical.
All the recordings were printed in July 2021 at the Konzerthaus in Dortmund, in a still pandemic-like period, which has, I believe, taken its toll on Gautier Capucon and Yuja Wang's performance of Johannes Brahms' Sonata op. 1 op. 38 in E minor.
Brahms is no Rahmaninov, I might say, mirroring the way Gautier Capucon and Yuja Wang perform the two composers' sonatas on the same disc. In Brahms we sense a slightly fragile balance between the sound planes of the two players - more often than not, the piano sits too much in the shadow of the cello. The situation evens out in the recording of the Trio op. 114, one of the last scores left by the German maestro. But the approach of the three musicians, who are best known for their passionate interpretation of music, remains surprising: Brahms is seen through a cold rather than an intellectual vision; emotion and verve are far removed from this austere vision, also noted by international reviewers, which does not rhyme with the performers' personalities. A surprising version for Johannes Brahms' Trio op. 114, with Andreas Ottensamer, Yuja Wang and Gautier Capucon.
Cristina Comandașu
Translated by Andreea-Iulia Ciucă,
University of Bucharest, Faculty of Foreign Languages and Literatures, MTTLC, year I
Corrected by Silvia Petrescu