Disk of 2022 > [Archived] Clasic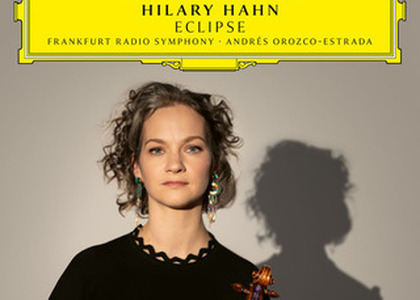 Violinist Hilary Hahn –"Eclipse" Album - Music box, October 10th, 2022
Monday, 17 October 2022 , ora 10.31

An album released by Deutsche Grammophon on October 7th: Eclipse with violinist Hilary Hahn, the first album released, after the pandemic period, by the famous American musician.
Hilary Hahn declared that she is very proud of this album recorded in the company of the Frankfurt Radio Orchestra, conductor Andres Orozco Estrada: Eclipse talks about communion between people, between musicians, about what it meant for musicians during the pandemic, noting that the three works on disc were recorded in April and June 2021.
Concerto in A minor by Antonin Dvorak, Concerto op. 30 by Alberto Ginastera and Fantezia Carmen by Pablo de Sarasate are these three works, from which I invite you to listen today to the works of Dvorak and Sarasate. Surprisingly perhaps, none of these appear on any of Hilary Hahn's records, even though they are true hits in the violin repertoire.
I admit that I am a fan of violinist Hilary Hahn: I admire the purity of her sound, the elegance of her style and her classicizing vision of the performed repertoire. Qualities that she exhibits, in an even greater dose than usual, in the interpretation of the Concerto op. 53 in A minor by Antonin Dvorak. It projects light and hope in a mature speech, befitting of what we call one of the most important violinists of our time. Not to be missed, I would say. On September 1st, 2019, Hilary Hahn announced that she would take a year off during the next season - which in the second half marked the onset of the pandemic and restrictions. For a long time, therefore, wanted and then forced, Hilary Hahn did not appear on the stage - only the release of her album, Paris, released in March 2021, based on recordings made in 2019, broke this silence. At 42, Hilary Hahn no longer sees herself as part of the young generation, but rather of the elderly, with other priorities in her professional and personal life. What has remained unchanged, and emerges even more pronounced now, after this period of silence, is the emotional intensity of her musical discourse, an intensity that shines not like a firework, but rather like a precious diamond. Which is so rare in a world dominated by superficiality and glitter.
Cristina Comandașu
Translated by Medeea Alexandra Stan,
University of Bucharest, Faculty of Foreign Languages and Literatures, MTTLC, year II
Corrected by Silvia Petrescu