Disk of 2022 > [Archived] Clasic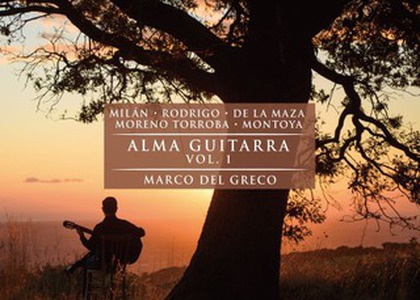 Guitarist Marco del Greco - 'Alma Guitarra' (volume 1) - CD review, May 18th, 2022
Wednesday, 19 October 2022 , ora 10.10

After releasing his debut record in 2014, a multi-award-winning and critically acclaimed record that included contemporary Japanese creations, virtuoso guitarist Marco del Greco returns this year with a new original discographic project dedicated to Spanish music composed in the early part of the last century. Released on the 22nd of April 2022,this is the first record part of a collection named "Alma Guitara", the second one following to be released in late 2022, the first onebeing recorded at the Church of Saint Archangel Michael, a historical edifice built in the 11th century in the Italian town of Sermoneta. The record includes less known modern pieces from the work of representative composers of guitar history - Joaquin Rodrigo, Federico Moreno Torroba, Regino Sainz de la Maza and Ramon Montoya, as well as a miniature song signed by Luis de Milan, one of the most famous Spanish Renaissance composers, performer of vihuela - stringed instrument, ancestor of the guitar.
Winner of the Tokyo International Guitar competition, Marco del Greco is one of the most successful guitarists of the moment. Born in Rome in 1982, the artist studied at the Santa Cecilia Conservatory in his hometown, then at the Academy of Music in Basel, his professor being Stephan Schmidt. He won numerous awards in international competitions, the most important moment of his career being in 2010, when he was awarded the first prize at the 53rd Tokyo Competition, one of the most prestigious guitar competitions in the world. Since then, Marco del Greco has held concerts and master classes in major cultural centers in Asia and Europe, proving exceptional musical qualities - virtuosity and a special stage presence.
The songs from the record "Alma Guitara" are performed by Marco del Greco completely in line with the characteristic elements of Spanish folklore, rhythmic complexity, contemplative spirit, an intensely vibrating and passionate sound. The authenticity of the performance of guitarist Marco del Greco also contributed to the fact that his record was recorded on original instruments built between 1916 and 1942, during the period of the famous luthiers from Madrid.
Larisa Clempuș
Translated by Bogdan-Nicolae Tănăsescu,
University of Bucharest, Faculty of Foreign Languages and Literatures, MTTLC, year I
Corrected by Silvia Petrescu