Disk of 2022 > [Archived] Clasic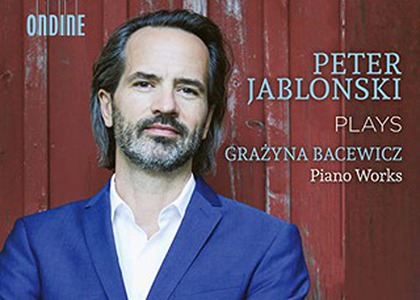 Pianist Peter Jablonski –compositions by Gra¿yna Bacewicz– CD Review, October 24th, 2022
Tuesday, 22 November 2022 , ora 15.16

This year, on February 4th, the Finnish label Ondine Records released a new album of the famous pianist Peter Jablonski, his third one for this record label. The Swedish musician has an impressive discography, which includes over 40 CDs mainly of romantic, modern and contemporary music. The album that I am proposing as a premiere at Radio România Muzical, within the project CDs of the year 2022, is the first one from a collection that Peter Jablonski intends to dedicate to the Polish musician Gra¿yna Bacewicz, a pianist, violinist and composer who lived between 1909 and 1969. Less known outside the borders of Poland, the artist manifested herself by composing concertos for violin and orchestra, chamber music and symphonies, scores conceived in an original, complex and non-conformist style. In recent years, her compositions have returned to the attention of critics and of the music lovers, and Peter Jablonski is one of the performers who contribute to the promotion of Gra¿yna Bacewicz's music, including by means of this CD recorded with the support of the Polish Ministry of Culture.
Pianist Peter Jablonski, now 51 years old, is one of the most appreciated musicians at the moment. Born into a mixed family, his father being Polish and his mother Swedish, he studied atMalmö Conservatory and at the Royal College of Music in London. He collaborated as a soloist with prestigious ensembles such as the BBC Symphony Orchestra, the Leipzig Gewandhaus Orchestra, the Philadelphia and Cleveland Symphony Orchestras, and in 1991 he signed a contract with the Decca record company. He recorded numerous albums under this label, and in 2020 he became an artist of the Ondine Records label, for which he has so far recorded compositions by Scriabin, Chopin, Alexey Stanchinsky and Gra¿yna Bacewicz. About the project dedicated to this talented Polish composer, pianist Peter Jablonski told us last year in an interview on the occasion of his presence at the George Enescu Festival:
I think that it is our, almost moral, duty to encourage composers to create music, but also to look for musical compositions that have been unjustly forgotten over time. There is a lot of absolutely wonderful music and composers who are long dead, whose music is no longer played, and to whom people no longer pay attention, regardless of whether we are talking about male or female composers. If we don't play this music, it dies. At this time, I must say that I am very dedicated to a project I have recently been involved in, related to the creations of the Polish composer Gra¿yna Bacewicz. She was an extraordinary violinist in the first part of her career, at the beginning of the past century, then she focused on composition. But she was also a fantastic pianist and wrote a lot of piano music. I am currently recording most of her compositions for piano solo and the two concertos written by her for piano and orchestra. It is a project that will occupy my next two years.
Peter Jablonski has planned events for the promotion of the composer Gra¿yna Bacewicz's creations in the 2022-2023 season: he will perform as a soloist of the Finnish and Polish Radio Broadcasting Orchestras in the Concerto for piano and orchestra by Gra¿yna Bacewicz and will give recitals in Sweden, Germany and Japan. His CD is already enjoying positive reactions in specialized publications and has received, in March, the Gramophone Editor's Choice award. "An interesting kind of music by an important composer, performed by a creative pianist at the peak of his artistic maturity", remarks the Gramophone magazine, while BBC Music Magazine notes the Sonata no. 1 for piano by Gra¿yna Bacewicz, whose rhythmic and emotional complexity is emphasized by Peter Jablonski. This sonata, composed in 1949, an exceptional year for the Polish musician, who received at the time the Chopin Prize of the Warsaw Composition Competition, has remarkable properties, a unique harmonic musical language, complicated rhythms and diverse dynamic nuances. Pianist Peter Jablonski offers a captivating interpretation, with dense sound perspectives and an elegiac atmosphere in the first two parts of Moderato and Andante sostenuto, with a strong and sharp discourse in the last two movements Scherzo and Finale Molto Allegro.
Larisa Clempuº
Translated by Ecaterina Bucovanu,
University of Bucharest, Faculty of Foreign Languages and Literatures, MTTLC, year II
Corrected by Silvia Petrescu