Disk of 2022 > [Archived] Clasic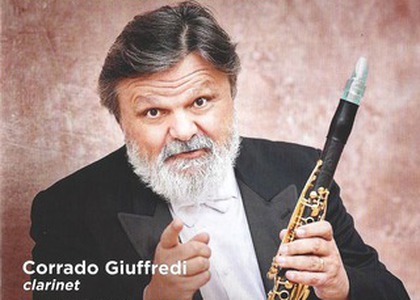 Clarinettist Corrado Giuffredi and pianist Leonora Armellini – 'All' Opera' album - CD Review, October 25th 2022
Tuesday, 22 November 2022 , ora 15.21

"All' Opera" is the title of the album recorded in March 2021 at the Luciano Pavarotti Theatre in Modena and released this year with the Sony Music label. The album features solos and themes from works by 19th century Italian composers such as Giuseppe Verdi, Giacomo Puccini, Gaetano Donizetti and Gioachino Rossini, in arrangements for clarinet and piano by Michele Mangani. The solo parts are performed by Corrado Giuffredi, a 59-year-old esteemed Italian musician. He is the first clarinet player of the Swiss Italian Orchestra and professor at the Modern Music Institute in Modena and has collaborated over the years with artists such as Martha Argerich, Riccardo Muti and Daniel Barenboim. Corrado Giuffredi has an impressive discography, his most recent launch being recorded with pianist Leonora Armellini.
About the idea of recording clarinet solos from the opera repertoire, Corrado Giuffredi says that it came about a long time ago, when he was a member of the TeatroRegio Orchestra in Parma and worked together with famous conductors and artists."Listening to music in that particular way, a song made up of thousands of expressive nuances, became part of my musical life in a natural way," says this clarinet player who has recordedsolos from famous works for his new album, but also some lesser-known pages that he has brought to light through extensive research, with the help of clarinet players Adriano Amore and Michele Mangani, the latter of whom published the scores in arrangements for clarinet and piano. Also included on this album is a suite of solos from works by Giovanni Pacini, a prolific 19th century Italian composer whose works were overshadowed, however, by famous composers such as Gioachino Rossini and Giuseppe Verdi.
Leonora Armellini, who accompanies clarinettist Corrado Giuffredi, is a 30-year-old pianist who studied at the Accademia Santa Cecilia in Rome and the Hochschule für Musik in Hamburg; she has performed on well-known stages in Europe, Asia and North America, and in 2005 won the PremioVenezia, one of the most important musical awards in Italy. She has so far recorded 11 albums of romantic and modern music, and teaches at the "Antonio Buzzolla" Conservatory in Adria.
Larisa Clempuș
Translated by Andreea Zofotă,
University of Bucharest, Faculty of Foreign Languages and Literatures, MTTLC, year II
Corrected by Silvia Petrescu