Disk of 2022 > [Archived] Clasic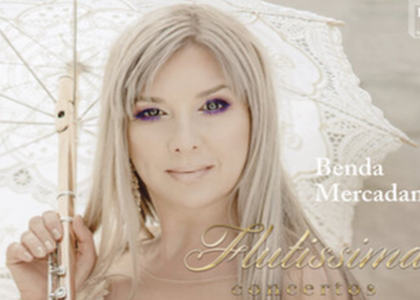 The album 'Flutissima Concertos' - CD Review, 27th of October 2022
Thursday, 24 November 2022 , ora 11.02

The Flutissima disc is the first of a collection that will be integrally released by the Polish record company DUX Records, having the support of Radio-broadcasting from the city of Lodz. Finally, this set will include recordings dedicated to the flute - chamber pieces, concerts and film music. The first CD of the collection, printed last year at the "Henrik Debich" Concert Studio, was released on January 7th, being also included in the 2022 Discs project run by Radio România Muzical. The album includes concertos in E minor for flute and orchestra by Franz Benda and Saverio Mercadante, recorded by Sylwia Kubiak-Dobrowolska, a young and acclaimed Polish flautist, who studied at the Frederic Chopin Academy of Music in Warsaw and had at the beginning of her carrer among her mentors the famous flautist Jean-Pierre Rampal. Having an extensive repertoire that includes classical pieces as well as jazz or world-music, Sylwia Kubiak-Dobrowolska has collaborated as a soloist with important Polish ensembles, including the Nova Symphony Orchestra, with whom she recorded her recent album.
This ensemble formed of talented musicians - members of theWarsaw Opera and Philharmonic orchestras was founded in 1995 by Łukasz Wojakowski, a prolific conductor, arranger, and producer, a graduate of the Frederic Chopin Academy in Warsaw, who participated in prestigious festivals in Europe and has numerous albums in his catalog. Among the most appreciated are the CDs that include the works Stabat Mater composed by Antonin Dvorak and Giovanni Battista Pergolesi, but also this new disc dedicated to the Concertos for flute and orchestra by Franz Benda and SaverioMercadante. They are elegantly and homogeneously performed by the Nova Symphony Orchestra, having a soloist with artistic personality, refinement, and virtuosity - flutist Sylwia Kubiak-Dobrowolska.
Franz Benda - Allegro con brio and Presto from the Concerto in E minor for flute and orchestra; Saverio Mercadante - Concerto op. 57 in E minor (Sylwia Kubiak-Dobrowolska, Orchestra Sinfonia Nova, conductor Łukasz Wojakowski).
Debut album, released January 7th.
Larisa Clempuș
Translated by Mihaela Ivașcu,
University of Bucharest, Faculty of Foreign Languages and Literatures, MTTLC, year I
Corrected by Silvia Petrescu