Disk of 2022 > [Archived] Clasic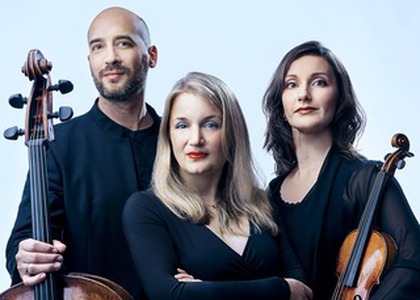 Klaviertrio Hannover - Missing Link album - CD review, November 8th, 2022
Tuesday, 29 November 2022 , ora 14.40

Romantic composer Emilie Mayer's Piano Trios are a true discovery.
Even though it has been long known about their existence, they haven't been published or released on CD until this year, when Klaviertrio Hannover shed light on them in the musical world. The three members of the German ensemble studied the manuscripts of these pieces and released them through Furore Verlag, a music publishing house in Kassel. They recorded the works afterwards in the Genuin Classics recording studio, and the album was released on June 3rd. It is a completely unique album because it highlights the chamber works of a less known composer, Emily Mayer, who was prolific, taking into account the fact that she started studying music rather late in her career; she created no less than eight symphonies, concerts, overtures and many chamber works.
Associate Director at the Berlin Opera Academy, the musician lived between 1812-1883 and was influenced by the classic Viennese school in her early years, and in time her music developed a strong, romantic style. Composer Emily Mayer's life took a dramatic turn of events when her father committed suicide, 26 years after her mother's death. Deeply impacted by her father's death, she immersed herself in composing works, thus creating a significant number of scores ever since. Out of that tragic yet deeply fruitful season of her life from a musical perspective, there came out three piano trios, which appear on the album recorded by Klaviertrio Hannover; the ensemble presented these pieces for the first time on November 25th, 2021 at the broadcasting station in Hanover. The romantic spirit of these scores are pointed out by Klaviertrio Hannover in a well-structured, thorough and gracious interpretation.
The piano trio from Hanover is made of pianist Katharine Sellheim, cellist Johannes Krebs and Polish violinist Lucja Madziar, who studied with Romanian cellists Petru Munteanu and Silvia Marcovici. The members of this ensemble live in Germany and work as teachers and concert soloists; they are also passionate about chamber music. They had an incredible success with their Piano Quartets album composed by Ludwig van Beethoven and recorded in 2019 with violist Konstantin Sellheim. And now the three instrumentalists are coming back, this time with a new album which reflects their interest in the less explored music of the past. I'm talking about the chamber works signed by composer Emily Mayer, about which pianist Katharine Sellheim says: "For me, discovering these piano trios manuscripts and doing research with Lucja Madziar and Johannes Krebs is a very exciting answer to what's missing in the music history of the 19th century. Actually, this is how the Hannover ensemble calls its latest album, Missing Link, by Emily Mayer.
Larisa Clempuș
Translated by Denisa Stanciu,
University of Bucharest, Faculty of Foreign Languages and Literatures, MTTLC, year I
Corrected by Silvia Petrescu