Disk of 2022 > [Archived] Clasic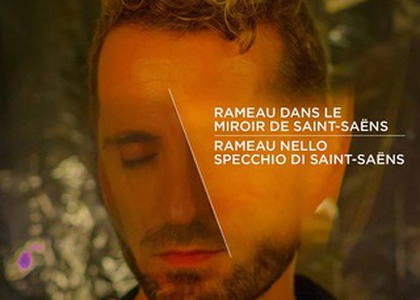 Pianist Luca Ciammarughi – CD Review, November 9th, 2022
Tuesday, 29 November 2022 , ora 14.43

"Rameau Dans Le Miroir De Saint-Saëns" - this is the title of the album released on June 24th, 2022, recorded in the summer of 2021 by pianist Luca Ciammarughi. He has chosen French music for the CD programme: a piece by the Romantic composer Camille Saint-Saens and pages composed by the Baroque composer Jean-Philipe Rameau. As is known, the creations of the latter-mentioned composer, who came to prominence in the 18th century, were discovered by his great admirer Camille Saint-Saens, who published the first edition of Rameau's harpsichord pieces in 1895.These baroque suites are included on the album of Italian musician Luca Ciammarughi, who recorded them not on a harpsichord, as one might expect from a performer of Jean-Philippe Rameau's music, but on an 1888 Steinway piano.The artist justifies his choice by the fact that this instrument has a special timbre quality and is capable of creating orchestral resonance; some photographers from Camille Saint-Saens' time also captured him playing such a piano. And Luca Ciammarughi aims to give the music he plays an authentic spirit and the salon atmosphere of the late 19th century.
This album, released by Sony Music and included in the "Records of 2022" project at Radio Romania Muzical, is centered around the cycle of pieces for harpsichord composed by Rameau in 1727, pieces of extraordinary harmonic ingenuity, with rich, melodic ornamentation.
Luca Ciammarighi is an acclaimed musician in Italy, concert pianist, writer, musicologist and radio journalist, show producer of Italian Radio Clasica. He studied at the Giuseppe Verdi Conservatory in Milan and has given recitals and lectures at important institutions such as the Accademia Santa Cecilia in Rome, La Fenice Theatre in Venice and La Scala in Milan.Luca Ciammarughi plays piano and harpsichord, is passionate about Baroque music, and is the author of numerous books based on the relationship between music and society. He has so far released five records with French music and works by Franz Schubert and Alfredo Casella, receiving positive reviews and awards from the Italian publications Amadeus and Musica.
Larisa Clempuș
Translated by Andreea Zofotă,
University of Bucharest, Faculty of Foreign Languages and Literatures, MTTLC, year II
Corrected by Silvia Petrescu