Disk of 2022 > [Archived] Clasic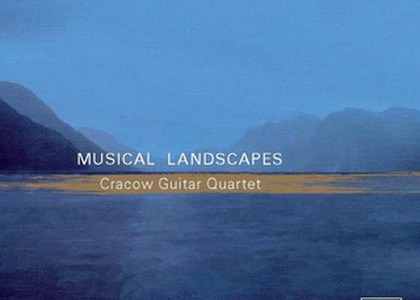 Cracow Guitar Quartet – the record "Musical Landscapes" – CD Review, 10th of November 2022
Tuesday, 29 November 2022 , ora 14.46

The record "Musical Landscapes" cover a wide range of musical genres. Starting from a famous Baroque piece, it covers classical, romantic and modern works too, reaching up to contemporary creation. The CD includes, among other things, miniature works by Luigi Boccherini, Edvard Grieg, Claude Debussy and Leo Brouwer, recorded by an ensemble of guitarists from Poland - Cracow Guitar Quartet which has numerous record projects and frequently holds master classes and chamber concerts in prestigious European festivals. The members of this quartet, founded in 2006 in Krakow, are Milosz Maczynski, Joanna Baran-Nosiadek, Lukasz Dobrowolski and Mateusz Puter.
Winner of important prizes in competitions in France, Greece, Italy and Poland, the ensemble released in 2010 its debut album - "from Ballet to Tango", a record with outstanding echoes in international specialized publications. And the record "Musical landscapes" is the second recorded by this quartet to prove again its remarkable artistic qualities - technical agility, virtuosity and sensitive interpretation, carefully following the style characteristics of each piece.
The record was recorded in 2020 in Krakow and released on July 15th, 2022 by the Polish label DUX Records. The album includes both songs that were written specifically for the ensemble of four guitars, as well as transcriptions from other famous scores, arranged by Jeremy Sparks and Brendan Lake, musicians who work in England and The United States as teachers, guitarists and composers. About the repertoire choices for this record, Lukasz Dobrowolski - member of the Guitar Quartet from Krakow says: "The Musical Landscapes" contains a carefully thought-out selection of eight compositions - a musical journey that spans from North to South and East to West, a journey that integrates the diversity and beauty of art: From musical subtleties to grandiose sonorities."
Larisa Clempuș
Translated by Bogdan-Nicolae Tănăsescu,
University of Bucharest, Faculty of Foreign Languages and Literatures, MTTLC, year I
Corrected by Silvia Petrescu