Disk of 2022 > [Archived] Clasic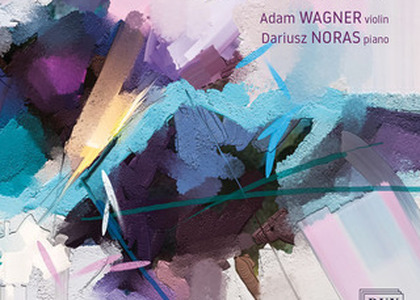 Violonist Adam Wagner and pianist Dariusz Noras - CD Review - November 11th, 2022
Tuesday, 29 November 2022 , ora 14.48

Zygmunt Noskowski was a 19th-century Polish musician who worked as a conductor, teacher and composer of romantic chamber and orchestral pieces. He lived between 1846 and 1909, studied in his hometown, Warsaw, and in Berlin, and in 1880 he settled permanently in the Polish capital, where he was a director of the Musical Society and professor at the Warsaw Conservatory. Zygmunt Noskowski established himself as one of the most prominent musicians in Poland at that time, a mentor to many composers from the generation of the early 20th century such as Karol Szymanowski or Grzegorz Fitelberg, and his music enjoyed success in Poland, although it was largely ignored outside this country.
Recently, there have been many initiatives to bring back into attention this composer's creations and among these recent projects dedicated to him is the disc recorded by the violinist Adam Wagner and the pianist Dariusz Noras, musicians who studied at the "Karol Szymanowski"Academy in Warsaw. They are doctors in music and have a rich concert activity.
Adam Wagner is a concertmaster of the Silesian Philharmonic Orchestra and a professor at the University of Katowice , and Dariusz Noras conducts the Piano and Accompaniment Department of the Music Academy in the same Silesian city. The two artists have a vast repertoire, in which Polish classical music plays an important role. In this sense, they also recorded their recent album, released on June 17th at the DUX Records Polish company, and it was also included in the 2022 Records project at Radio România Muzical. This album, presented at the "Karol Szymanowski" concert hall in Katowice, contains two romantic pieces, namely Sonata in A major by Cesar Franck and Sonata in A minor for violin and piano by Zygmunt Noskowski, a piece which combines classical structures with a romantic aesthetic, having both passion and a special lyricism highlighted by the violinist Adam Wagner and the pianist Dariusz Noras.
Larisa Clempuș
Translated by Ioana Negrea,
University of Bucharest, Faculty of Foreign Languages and Literatures, MTTLC, year II
Corrected by Silvia Petrescu