Disk of 2022 > [Archived] Clasic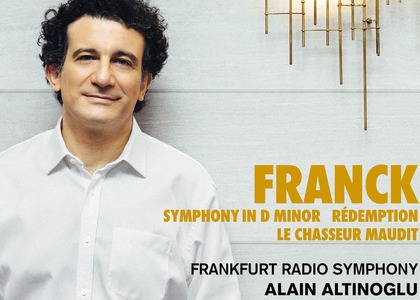 A new album by César Franck, in collaboration with the Frankfurt Radio Symphony and its new conductor, Alain Altinoglu
Monday, 16 January 2023 , ora 10.36

New discographic discoveries at the beginning of the year. We shall have enough time indeed for the newest projects to unfold, as 2023 albums are bringing new releases, scheduled to be depicted between November 1st, 2022 - November 1st, 2023. As such, today my wish is to feature an album released on December 9th, 2022 by the Frankfurt Radio Symphony and its new conductor, Alain Altinoglu. It includes symphonic and vocal-symphonic pages by César Franck. It is quite a work. The symphonic movement Société Nationale de Musique appeared in France in the 19th century, as a result of losing the Franco-Prussian War (1870-1871), and out of a desire to tear down the German supremacy in the orchestral music field, more precisely for chamber music; France, especially Paris, was more eager and passionate about opera and operetta, which is why this movement is born, with Belgian César Franck as its main character.
Getting back to the present times. The Frankfurt Radio Symphony Orchestra, famous for the landmark lyrics written throughout time, especially in regards to the symphonic repertoire signed by Anton Bruckner and Gustav Mahler, has been led since 2021 by a French conductor, Alain Altinoglu, known for promoting French music in the European space. The juncture is perfect as we can now show you his album (César Franck), which I would describe as a combination between German rigor and French sophistication when it comes to the interpretation. A dynamic rendering of reviving music at the moment of release - I'm talking about Symphony in D minor, the starting piece of this album, released under the Alpha mark. It is a surprising symphony in its format, with its principle of revolutionary cycle, and also in the inner beauty of the musical discourse.
I would also highlight the profile of the second part, Allegretto, unusual in format, combining the slow parts as they are seen in traditional symphony, with the Scherzo, dazzling by its vivid style and the way in which the melodic lines are highlighted, especially that of the English horn, accompanied by the harp and bowstrings, as well as by the brilliance and the emotion of the ending, with repetitions of themes used in the first part, with a compartment of tooters in the background that are to be envied. It is one of the most recorded symphonies at the end of the 19th century, completed throughout the album by Redemption, a symphonic interlude, and The Cursed Huntsman, a symphonic poem, two opposites which you will hear if you acquire Frankfurt Radio Symphony's new album, conducted by Alain Altinoglu.
Marina Nedelcu
Translated by Denisa Stanciu,
University of Bucharest, Faculty of Foreign Languages and Literatures, MTTLC, year I
Corrected by Silvia Petrescu