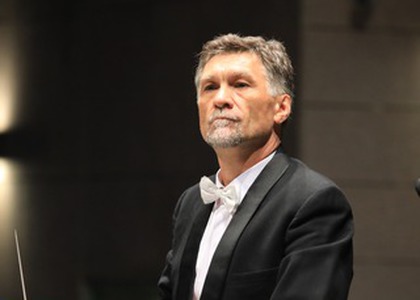 Brașov Philharmonic Orchestra- invitation to the first 2021 symphonic concert!
Thursday, 7 January 2021 , ora 10.14

The first symphonic concert of this year finds us once again in the Virtual Concert Hall!
The campaign "The Philharmonic in Your Home" continues and the beginning of 2021 inaugurates the symphonic concerts organized by the Philharmonic with a special programme. Therefore, on Thursday, the 7th of January at 7 p.m., music lovers are invited to the Facebook and Youtube pages of the institution to watch the LIVE transmission of the concertwitha notorious repertoire-O. Respighi - "Ancient Airs and Dances" Suite No. 3and J. Haydn- Symphony No. 101 in D major "The Clock". This event will take place under the baton of conductor George Hariton.
In "Ancient Airs and Dances" by Ottorino Respighi, the composer proves to be a maestro of colours, of discrete nuances. He preserves the "perfume" of the past pertaining to the elegant musical discourse,of a distinct grace.
The Symphony No. 101 in D major "The Clock" (1794) begins with an introduction - Adagio - in D minor, concentrated, as a philosophical introspection, emphasized within high-class performances.
The Symphony No. 101 by Haydn became famously known under the name of "The Clock" due to the abrupt rhythm, that tick-tock which accompanies the melody from its slow movement- Andante. This appears as a chorus undervarious transformations and orchestral appearances (the form is a combination of rondo and fear with variations).
Allegretois an impetuous minuet, festive and spirited. The trio presents gentleness and pastoral humour.
The finale of the symphony -Vivace- is a movement of exceptional force and artistic multitude.
It is a musical event which marks the beginning of a cultural activity defined by the adaptation to such a state of normality which wants to be experienced and felt by music lovers and many more.
The access to the concert is free of charge.

Translated by Mihaela Dumitrescu,
University of Bucharest, Faculty of Foreign Languages and Literatures, MTTLC, year I
Corrected by Silvia Petrescu