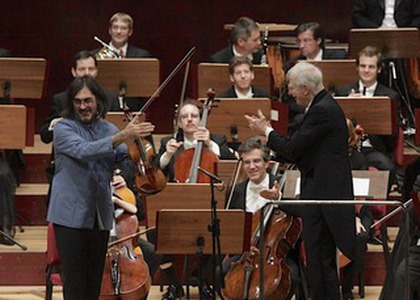 LIVE from Munich: Leonidas Kavakos Herbert Blomstedt
Monday, 16 January 2023 , ora 10.18

This end of the week, in Munich, a poster with two big names of the current art of musical interpretation.
Four decades of life separate them. But what brings them together are the many centuries of musical composition, through the interpretative versions which they create together, just as convincing as they always are.

Leonidas Kavakos- a violinist who also brings to fruition his interests in conducting on different meridians of the international musical life. An artist with an impressive repertoire, with a prestigious discography, which also includes a variation of the famous Concerto in E minor for violin and orchestra by Felix Mendelssohn, which he performed both as a soloist and a conductor, together with the Salzburg Camerata, in 2008. Leonidas Kavakos is one of the famous names of the current art of musical interpretation, confirming his assets every time. Aged 55, Kavakosc ombines the stateliness of maturity with a youthful energy, with the energy and vigour of an artist who "burns" on the stage, emanating brilliance and verve but also balance and the strength of a rigorous construction.
The Scandinavian conductor born on American land 95 years ago astonishes us every time with the vivacity and energy with which he even now comes in front of the ensembles. Aware that the era of "tyrannical conductors" has long since passed, Herbert Blomstedt has a special kind of dialogue with the members of orchestral collectives, based on a great deal of respect, on the need for precision and discipline, but also for the underlining of a common vision about artistic communication. It is music that feeds his spiritual youth and the encounter with Bruckner's 4th Symphony -the "Romantic" one, is probably one of the most remarkable pleas in this regard.
Mendelssohn and Bruckner - two distinct romantic dimensions, two genuine "hits" of the concerto and symphonic repertoire respectively, in the interpretation of the Bavarian Radio Symphony Orchestra, at the European Stage, on Friday, January 13th, at 9 p.m.
Anca Ioana Andriescu
Translated by Ecaterina Bucovanu,
University of Bucharest, Faculty of Foreign Languages and Literatures, MTTLC, year II
Corrected by Silvia Petrescu