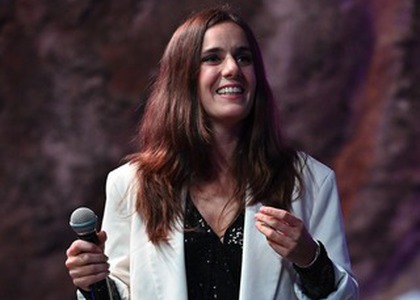 On Sunday, the 19th of November at 6 p.m., the singer Irina Sârbu is going to be live at the "Jazz Planet" emission, on the Radio România Muzical station
Monday, 20 November 2023 , ora 10.20

From the interview with Viorel Grecu, we are going to learn stories about the soloist's newly released album, At the End of July. It is Irina Sârbu's first record exclusively made with her original pieces. It has ten pieces, out of which nine are in English and one is in French.
While the singer was recording, some of the most important local instrumentalists were present: Sorin Zlat - piano, Adrian Flautistu - double bass and Iulian Nicolau - drums. Cătălin Milea - saxophone, Sebastian Burneci - trumpet, Liviu Negru - electric guitar and Alex Man - acoustic guitar, joined as guests as well. Irina Sârbu also made a duet with little Ana, her daughter, on her piece That's My Girl.
This spring, Irina Sârbu celebrated two decades since her jazz debut through a concert with the Radio Big Band. She is a theatre graduate, and at UNATC, she also studied music with the famous Anca Parghel. Due to her high stage experience and strong and flexible voice, Ioana Sârbu can easily approach other musical styles besides jazz: folklore, inter-war music and classical music sheets.
Irina Sârbu's complex artistic side is also reflected on her album At the End of July, and she does not shy away from stating that it is a rather personal one. At the Jazz Planet programme she will certainly reveal more aspects about At the End of July and also about her other projects and the moments which made her two-decades-career special.

Translated by Cristina-Paula Grosu,
University of Bucharest, Faculty of Foreign Languages and Literatures, MTTLC, year I
Corrected by Silvia Petrescu