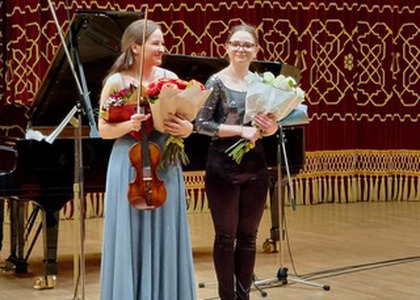 "The Heirs of Musical Romania", at the Romanian Athenaeum - the last recital of this year
Monday, 20 November 2023 , ora 10.46

Yesterday evening, on the stage of the Romanian Athenaeum, a recital-event took place from the "Heirs of Musical Romania" series, initiated and carried out by Radio România Muzical along with Rotary Club Pipera, Artexim and the Cultural Foundation "Remember Enescu" with the aim of promoting the Romanian laureates of the "George Enescu" International Competition.
Two young and valuable musicians were on stage: Maria Marica, the violinist who won in 2022 the First Prize at the "George Enescu" International Competition, and the pianist Daria Tudor, a semi-finalist of the same competition.
Cristina Comandașu, manager of Radio România Muzical, presented yesterday's event, and in the opening of the program, Robert Schumann's Piano SonataNo. 3was performed. Next, the two musicians transposed us into a story full of fantasy through the Five Melodies op. 35 encore by Sergei Prokofiev, to finally shine in the well-known Sonata in A major belonging to the creation of César Franck.
The intense and harmonious collaboration between Maria Marica and Daria Tudor was long applauded and appreciated by the audience at the Romanian Athenaeum.
Among those present was Cristina Uruc, the manager of Artexim: "It was an extraordinary recital! Both Maria Marica and Daria Tudor are incredible instrumentalists. The program was very well chosen, very beautiful, it connected wonderfully and the Sonata by Cesar Franck was a delight, which in places also has some sonorities from Enescu and makes us think of him, and Maria was incredible in this sonata... as in the entire repertoire, by the way, as was Daria."
Here are other impressions collected from the audience:
"They succeeded, convincingly! The girls are absolutely talented and I'm glad that I could participate in such an event. Really!"- Vasile Deleanu, lawyer
"I found the music divine, especially the violin! Very angelic and conveyed a lot of emotions." - Antonia Niculescu, student
"The girls were exceptional! I really liked them. They performed with a lot of feeling, with a lot of dedication, they also had passages of virtuosity, especially the one at the piano. I liked it very much and I wish the two young ladies a lot continued success! May they have applause, flowers, satisfaction and joy in their work." - Maria Ogica, pensioner
"For me it was the first time I came with my mother. I mean, for her it's the first time she comes to the Athenaeum. It was emotional. She took us through a dream state. I liked it, in short, and I I'm glad that we have young people who carry on the good things in history." - Elena Ciubuca, civil servant
"I really liked it! I came and we decide to come again. You leave with such a good mood..." - Cristina Moraru, pensioner
Reportage made by Ioana Țintea
Translated by Cosmin-Ionuț Petriea,
University of Bucharest, Faculty of Foreign Languages and Literatures, MTTLC, year II
Corrected by Silvia Petrescu