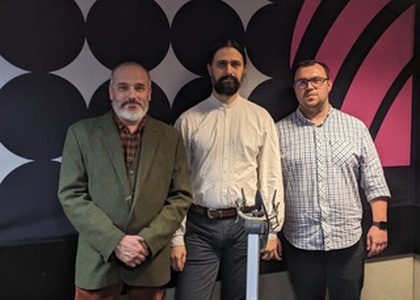 Bucharest Old Music Festival – the 17th edition
Monday, 21 November 2022 , ora 10.25

"East and West" is the concept behind the 2022 edition of the Bucharest Old Music Festival. This year's festival is a sort of "musical fan", with French, Italian, German Baroque music, Sephardic Jewish music and even Romantic music, authentically performed on a period instrument - from the West and Romanian early music, Byzantine music, Armenian music and Indian classical music - from Eastern Europe and the Near East. About this year's edition in the interview from Wednesday, the 16th of November 2022, as part of Perpetuum mobile:

Ethnomusicologist Florin Iordan, member of the group "Trei parale" and Laurențiu Constantin, Medieval Praxis director and Bucharest Old Music Festival organizer - in the Radio Romania Muzical studio - are this week's guests. Welcome!
Florin Iordan: Good evening!
Laurențiu Constantin: Good evening!

We're talking about the 2022 edition of the Old Music Festival. It started on the 10th of November, Laurențiu Constantin, and four concerts have already passed. How was the first week of the festival?
Laurențiu Constantin:Very busy. Usually a festival builds to a crescendo, reaches a peak, the peak is the debut and then enters into somewhat of a routine. Things have now settled down and we, the organisers, are starting to feel that cadence of the East and the West. This year' s theme is "East and West". And the setting is precisely in this spirit. To my left is a representative of the East, to the extent that 19th century Wallachia and Moldavia mean the East.

It's the first edition following a complicated period. How did the audience respond?
Laurențiu Constantin: Surprisingly well. Delightfully well, I'd say. We were a little nervous ourselves. In 2020, we had an exclusively online edition of the festival. In 2021, taking advantage of one of those windows of slight normality, we had 6 online concerts and 2 with a live audience - as small of an audience as the rules allowed at the time.
Now, we have 11 events, all of which are open to the public, with no restrictions. The greatest joy is that the audience showed up, after last year I couldn't help but notice - not only me, but also other colleagues in the industry - the audience's reluctance to come back. And I was very happy to see the same people again. We are at the 17th edition... there are some people who have come year after year, for 17 years.
I was happy to see the artists in good spirits. They sing well anyway, because that's what they do. But you sit in the audience and you look at them and you imagine the stories behind what they deliver on stage and... I felt them, somehow, in a state of normalcy that they were not in last year.

Tomorrow there will be a conference-concert "Between Byzantium and Rome", held by Nicolae Gheorghiță. Then, two days later, "Baroque Unknown" in the National Museum of Art's Auditorium. What is the project of the Sempre Ensemble?
Laurențiu Constantin: Sempre brings together young Romanian musicians and a few guests from abroad who have specialized in the interpretative practice of old music, more precisely baroque music.

It must be said that it is a young ensemble, established in 2020.
Laurențiu Constantin: Yes, they came into being in 2020, but they have been playing for 5-6 years in roughly the same formula. It just flowed naturally. First it was a crush, then an engagement, then they got together... it's just like real life. In 2020 we just announced the name and that we're launching it.

It was made official.
Laurențiu Constantin: It was made official! They are young people who studied abroad, at prestigious educational institutions, and then came back home to work, to make baroque music at home. The greatest joy is that they have grown from project to project. Each project is, as are all serious early music projects, the result of extensive research. And what they will be presenting on Saturday is called "Baroque Unknown" because it features a repertoire of some of the most unknown composers of European baroque music.
Just like everyone knows Bach, Vivaldi, Telemann, Handel, there are others who are contemporaries with them, but whom, for various reasons, music history has not preserved the memory of as well. There is a certain Albicastro who is absolutely fabulous and ravishingly beautiful and musically refined, contemporary with Vivaldi. Music history has memorized Vivaldi, but not Albicastro. The project restores these very names; they are German, Flemish, French, Italian. Together they offer a sample of unknown baroque.

The second week of the Bucharest Old Music Festival will end with the "Bazaar" project. We also have old Romanian music in this series. Florin Iordan, before talking about the concert - also held in the National Museum of Art's Auditorium - please give us more information about the ensemble you are representing tonight!
Florin Iordan: We've been around for almost 20 years - it will be 20 next year - and since the beginning we've been focusing on traditional urban music and then also on peasant music, in a way we call revivalism, that is, a way that tries to get as close as possible to the style of the era you're referring to. This unique and quite consistent and serious approach somehow represents us in this whole musical landscape.
Then, over time, of course, we've developed more programs. The programme we will present on Sunday is an important one for us, an essential one, a basic programme, bazaar - songs from the 19th century. And each time, this programme is refined, expanded, developed and we try to take it further. We have published two compact discs with this programme over the years - one in 2008, the other in 2012 - and we are already looking back on the 2008 one with indulgence. Each time you try to get closer to what you set out to do and we think we are now closer than we were 6 or 7 years ago when we first presented "Bazaar" at the Old Music Festival. This programme is truly linked to the Old Music Festival. The first time we presented it was at the festival, at the first edition in 2006, and we brought it back from time to time, each time in a new outfit. We hope that this time too, even for those who come to each edition, it will be a fresh and interesting experience.

What is the current formula of the "Trei parale" group?
Florin Iordan: The formula has not changed much over time. I have my wife, Beatrice Iordan, beside me, who plays the cobza and the bass; Daniel Pop is the vocal soloist with whom we have been together for 17 years. But besides being a soloist, he is our Anton Pann, as I call him; also a flutist and, above all, a refined percussionist. And a more recent addition to the band is violinist Mihai Balabaș who has been with us for about 11 years. He only plays violin, but he does it so well that he doesn't even have to do anything else.

Some titles from Sunday's concert... What will we be listening to?
Florin Iordan: As always, there will be a substantial set from Anton Pann's Hospital of Love; we will be singing for the first time "Nu mai poci de ostenit" and I hope that those who come will like our interpretation. Some pieces we sing less often… "Scoală, puiculiță, scoală" or "De-ai ști, suflețelul meu"… Others we've been playing for a while. Then there are period instrumental songs from Francois Rujitsky's 1834 manuscript, we will have two Greater Wallachian dances, pieces that are already classics, they have also appeared in movie soundtracks. Aferim, for example, opens with these pieces from our second disc. There will also be Moldovan dances from a 1822 Codex Moldavus. And then we reach the end of the 19th century, where our programme is also a bit between the East and the West. And even if the biggest part of the program, the most consistent, evokes the Eastern influence, at least in the final part we show a little of the Western influence that became, throughout the 19th century, more and more pronounced, more and more persistent.

Therefore, all this on Sunday, in the Auditorium Hall, starting at 19.00. The finale of the Bucharest Old Music Festival takes us to Sala Radio for a concert by the Sempre Ensemble. This time, the concert is entirely dedicated to Johann Sebastian Bach's work. What does this project look like?
Laurențiu Constantin: It's called "Bach by night". It's a concert of Bach concerts, concert in which Bach is the ideal occasion to create a royal, a gala concert just right to close a festival with. It is a concert in which the ensemble members will perform pieces they have never played in other concerts. There will be a few solos that will showcase the band members' solo skills, a harpsichord solo with Raluca Enea, another violin solo with Rafael Butaru, who is one of the ensemble's violinists. Apart from that, there is "mainstream" music. Bach is the author of music that very often needs context. You can't play or listen to Matheus Passion just as music to listen to. We have such music in our repertoire, we have concerts in our repertoire that we have chosen precisely for what we hope will be a hit with the public and to make a good propaganda for baroque music.

Ethnomusicologist Florin Iordan, member of the group "Trei parale" and Laurențiu Constantin, Medieval Praxis director and Old Music Festival organizer were this week's guests in Perpetuum mobile. Thank you for being on the show. Good luck with the festival!
Interview by Lucian Haralambie
Translated by Raluca Ioana Crucerescu,
University of Bucharest, Faculty of Foreign Languages and Literatures, MTTLC, year I
Corrected by Silvia Petrescu