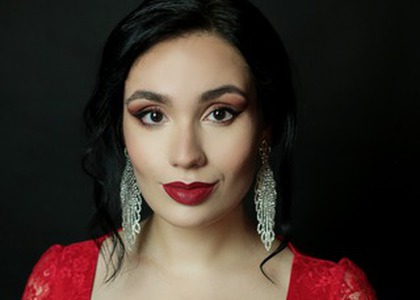 Interview with soprano Aida Pascu
Monday, 20 November 2023 , ora 9.44

Soprano Aida Pascu is part of the cast of Giacomo Puccini's opera "Boema", which is being performed today at the Maggio Musicale Fiorentino Theatre in Florence. The young musician will play the role of Mimi, conducted by Giacomo Sagripanti. Aida Pascu is currently in her second year of a master's degree at the National Academy of Music "Gheorghe Dima" in Cluj-Napoca. The artist was among the winners of the 2021 and 2022 editions of the competition for the "Heirs of Musical Romania" Scholarship, a project initiated by Radio România Muzical. More details from soprano Aida Pascu:

Aida Pascu, you are in Florence where you will perform, in two performances, the role of Mimi from "Boema", a character you have already played in operas in Sofia and Bucharest. First of all, please tell us how this collaboration with the Italian opera house came about?
I was called for an audition. It was a surprise for me too, I didn't know they had heard of me here in Italy, in Florence. I auditioned and the artistic director of the theatre liked it very much.

Who will be your stage partners?
I will play Mimi with Kang Wang, who is a tenor from China, and with Qianming Dou who is a baritone also from China and will play Marcello. Musetta will be Aleksandrina Myhailova whom I met at the masterclass of Raina Kabaivanska. Schaunard will be Matteo Torcaso, and Benoit will be Davide Piva, both are part of the Accademia del Teatro Maggio Fiorentino; and Colline will be Francesco Leon.

This is already the third production of "Boema" you've been a part of. What is this score like for you and what do you feel you have gained from the performances you have been in so far?
It's a score that has never posed me any great vocal, technical or interpretative problems. From a psychological point of view, I understood the role very well and I got the hang of it quite quickly. This time, however, I feel that I can bring my own expression to the stage very well, in the sense that in this direction, which is classical, I am asked to play Mimi exactly as I would feel, without adding or changing anything. I am very happy that my voice is developing and evolving so that it can become easier and easier each time and I feel as comfortable as possible on stage.

The 2021 and 2022 editions of the competition for the Heirs of Musical Romania Scholarship, a project initiated by Radio România Muzical, brought you special prizes. First you had the opportunity to play with the Brașov Philharmonic Orchestra, as well as the Radio Chamber Orchestra, and then you received a studio recording session organised by our station. In July this year you recorded at the Sala Radio with pianist Gabriel Gîțan. What does this prize mean to you, which will finally bring you your recording debut?
For me this award was a big surprise and I didn't expect to be able to record some songs already at this time of my life. Therefore, I prepared myself very well. I recorded Lieder in French, Russian and German. I had to consult with experts about the pronunciation for these lieder. It was two days of very intense, but also very enjoyable recording and I certainly realised that I really enjoy recording and would like to repeat the experience in the future.

How did you get to that selection? Lieder by which composers?
I simply selected my favorite lieder from all the ones I played, especially in college. I chose Enescu, Faure, Rahmaninov, Tchaikovsky, Schubert and Grieg; one of each.

How did the collaboration with Gabriel Gîțan go? Did you already know each other?
Yes, we had met at an event before, at the Athenaeum Conferences, where Maestro Ioan Holender spoke. I was invited to sing Casta diva which I had the pleasure to sing with Gabriel Gîțan and I knew I could trust him very much for these recordings. Therefore, I was the one who contacted him and asked him to record with me.

2023 is an important year for your career. You made your debut on the stage of the Bucharest Opera, but also at the Romanian National Opera in Cluj-Napoca. In Cluj you also made your debut in the role of Dona Anna in the new production of Mozart's Don Giovanni. What was this experience like for you?
It was intense, after almost two months of work, study and rehearsals. Of course, it's not an easy role by any means. I would say that Mimi was much easier for me than Donna Anna, which, being Mozart, is a very technical role. I chose it specifically for that technical aspect, because it took me further in terms of my vocality and I understood how to get through different, difficult passages, just by studying and singing on stage. It was the most emotional experience of my entire life on this show, but it was especially helpful.

I would like to end by mentioning the performance of Leoncavallo's "Clowns" from Bulgaria. You debuted in Nedda with your father, baritone Ionuț Pascu, as the scheming Tonio, the moral author of Canio's murder of Nedda. What was it like to perform in this context and what was this role like for you, since from a dramaturgical point of view it falls into a completely different category than Mimi or Donna Anna?
I found that verismo was right up my alley in terms of character psychology. I understood Nedda, I loved her, it's a shorter role than the other two I've sung, but quite intense. I found myself very well in this character, both vocally and scenically. It was a very nice experience in Bulgaria with the circus. It was on stage while I was singing and I was in turn fascinated by it. The mixed opera and circus audience was absolutely delighted with this production.

Collaboration between the opera in Stara Zagora and a local circus.
Yes. It was an experience that I remember with great fondness and all I can say is that I wish, as soon as possible, to perform this role, Nedda, again, because I felt it closest to my heart so far.

What are your main projects for next year? Is there continuity in Florence?
Not for the moment. In Florence I don't have another contract at the moment, but I will play the role of Elcia in Rossini's "Moses in Egypt" at the theatre of Modena, in Piacenza and Reggio Emilia. There will be a local tour in October 2024.

You will complete your Master's degree in Cluj.
I have to finish my master's in Cluj, for sure. At the moment there are only small concerts planned, but I hope there will be other opportunities along the way.
Interview by Florica Jalbă
Translated by Bianca Daniela Penaru,
University of Bucharest, Faculty of Foreign Languages and Literatures, MTTLC, year I
Corrected by Silvia Petrescu