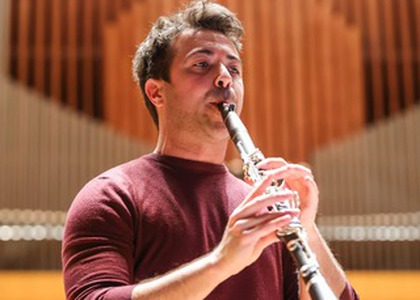 Interview with clarinetist Pablo Barragán
Monday, 20 November 2023 , ora 10.29

On November 17th, 2023, a concert featuring the National Radio Orchestra takes place at Radio Hall, with Spanish clarinetist Pablo Barragán as the guest soloist. The musician talks to us about the event in an interview with our colleague, Sarah Natsis.

Mr. Pablo Barragán, this Friday you will perform on the stage of Radio Hall in Bucharest. Have you had any contact with the concert life in Romania before?
In recent years, I have come to Romania often. The first time was in 2015, at the invitation of the "Cervantes" Institute, but also at the invitation of my friend, Andrei Ioniță - a prominent name in classical music worldwide - who invited me to perform together with him in a chamber music concert at the Romanian Athenaeum. I participated in the "SoNoRo - Musikland" Festival with another friend, Răzvan Popovici, at the Brasov Philharmonic with Ionuț Dragoș Dimitriu, and at "Eufonia" - a fantastic festival - with Vlad Popescu. A very beautiful connection is formed with Romanian concert life, friendships are forged, making it an important part of my life.

You will be presenting Concerto No. 2 for clarinet and orchestra by Óscar Navarro, in its Romanian premiere. What motivated you to choose this work, and what role does contemporary music generally play in your repertoire?
It's a concerto I've known for a long time; Óscar has become an important Spanish composer. He writes music that is well-crafted, evocative, and very beautiful. It's a piece that I am premiering, and I chose it together with the organizers with the idea of having a representative repertoire for Spanish music. I felt that this concerto is perfect for a first collaboration with the orchestra, and I can't wait to perform it. It is very descriptive music, it will be an interesting journey, and I hope the audience will enjoy it.

How have the rehearsals gone so far, considering this is your first collaboration with the National Radio Orchestra?
Yes, it is the first collaboration, and today we will have our first rehearsal together. We had a rehearsal yesterday with the clarinet section, and it was a very enjoyable meeting.
Interview by Sarah Natsis
Translated by Ramona Ana-Maria Ionescu,
University of Bucharest, Faculty of Foreign Languages and Literatures, MTTLC, year I
Corrected by Silvia Petrescu