Disk of 2017 > Jazz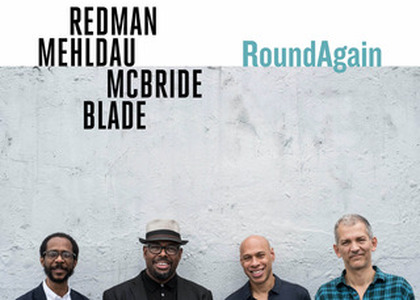 Joshua Redman, Brad Mehldau, Christian McBride, Brian Blade: the album 'Roundagain' - Jazzy Hour, the 8th of September 2020
Tuesday, 13 October 2020 , ora 15.43

Album released on the 10th of July 2020
We have the occasion to listen to a monumental ensemble consisting of four of the most brilliant musicians of the last quarter of the century, with new recordings after almost 30-year break.
In 1994, Joshua Redman, Brad Mehldau, Christian McBride and Brian Blade remarked themselves as super-talents who progressed rapidly to the New York jazz elite and recorded together the album "Moodswing", as a group led by Redman. It was clear that such anassociation could not be kept together for a long time considering the value of each musician and the offers coming from everywhere. Each of them followed his path, the meetings that followed were sporadic, until 2020 when the quartet reunited, to everyone's joy, as a super-group.
"Round Again" is the resulting album, with new pieces which sound as if the four of them never separated, keeping intact the ability to synchronize and cumulating the experience from the multitude of contexts in which they manifested themselves. Each of them contributes with compositionsand the way in which they share their soloistic moments shows us both their past as group leaders and the capacity to listen to themselves and leave room for personal touch.
"Round Again" is abig-time album, which could come out only in 2020, because it reflects the form of today's jazz, in one of its mostbrilliant representations. This is how they got here, the four great musicians of our time seem to tell us, with modesty and elegance.
Berti Barbera
Translated by Dumitrescu Mihaela,
University of Bucharest, Faculty of Foreign Languages and Literatures, MTTLC, year I
Corrected by Silvia Petrescu