Disk of 2022 > Clasic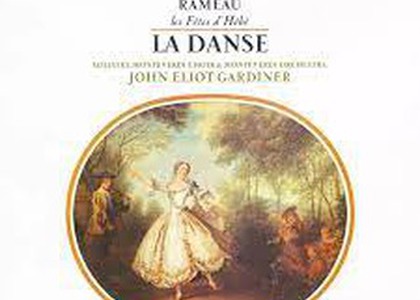 La dance – Hebei celebrations by Jean Philippe Rameau – anniversary of Sir John Eliot Gardiner, CD review/Arpeggio, January 10th
Monday, 16 January 2023 , ora 10.38

The record labels Warner and Erato have set out since last month to release a series of records to celebrate and honor conductor Sir Eliot Gardiner, who will turn 80 years old in April. Not only the prolific and long collaboration between the conductor and the record label is highlighted, but especially the extraordinary journey made in the company of the Monteverdi Choir and Orchestra - an odyssey of more than 60 years, which began with a pioneeringon the line of promoting and imposing of old music in England and later throughout Europe. The experience is huge, as is the repertoire and especially the quality of an interpretative approach, always historically argued, but also having qualities of a musicality and expressivities of great value, recognized as such by a faithful audience, increasingly well-educated and passionate.
The focus is now on Jean Philippe Rameau, after so many Bach albums. We do not forget the impressive Pilgrimage of Cantatas,since the early 2000s, we do not forget Handel, Monteverdi and countless other intelligently interpreted musical universes. Back to the new appearances under the Warner label: "La Danse - the third Act of Rameau's "Hebei celebrations" on December 2nd, the Suite of the lyrical tragedy "Dardanus" also by Jean Philippe Rameau on December 9th, a Handel record on December 13th, and again Rameau - "Les Boreades" on December 16th.
I do not know if we will go through all these records, but the fact is that today we retain the first - "La Danse" from "Hebei celebrations" by Rameau, recorded by the Monteverdi Choir and Orchestra, with sopranos Anne-Marie Rodde, Jill Gomez and tenor Jean-Claude Orliac as soloists. The script begins with a gay (cheerful) ritournelle, a recitative and an Aria of the God Mercury, followed by the entrance of the shepherds, a dialog between the choir and Eglé ("Love reigns in these forests"), followed by dances - Mussete, Gavoteen rondeau, Rigaudon, with a Mozartian quality of speech, other choirs, recitative and arias always alternating, giving surprises. No static moment in this scenario with a vivid, exuberant dynamic, including contrasts and episodes of obvious depth. It does not surprise us, given the subject, the giocoso character that alternates with more dramatic moments, rendered with wide gestures, with an obvious expressiveness. It is truly a celebration, of a great conductor of our time, but also of the music of Jean Philippe Rameau, a connoisseur of the secrets of the perfect performance.
Marina Nedelcu
Translated by Bogdan-Nicolae Tănăsescu,
University of Bucharest, Faculty of Foreign Languages and Literatures, MTTLC, year I
Corrected by Silvia Petrescu