Romanian musicians - European personalities with University Professor Grigore Constantinescu, PhD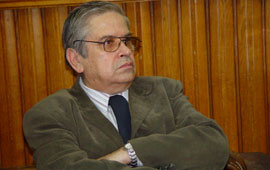 The radio cycle Romanian musicians – European personalities was introduced from the stringent desire to describe the basis of the international prestige that the Romanian culture enjoys, from the point of view of the composer and the interpreter and taking into account the theory and the esthetics.

The history of the last two centuries was often based upon the evolution of continental cultural and social relationships. This era's musicians have had the privilege to represent through their activity and creation that which was extremely valuable for the world of contemporary music, thus continuing the Baroque and Classical traditions. Nevertheless, the major European cultural centers have offered the perfect conditions for the development of numerous personalities destined to start the Romanian Musical School, to discover new talents, to set the foundation to a prestigious national educational system.

Great artists of whom we know relatively little compared to what their accomplishments mean for our culture, chamber ensembles, choirs and orchestras, all these become the objects of our study; the European cultural centers have received such vocations, promoting Romanian values, names of legend. It is well worth following their footsteps, to reenact their European itineraries. These are but a few subjects which, accompanied by music, can open a wide horizon to our knowledge, as we have always bean a part of Europe from a musical point of view.

Along with the programme's editor, Sorina Bobeico, I invite you to discover the great Romanian musicians from a whole new perspective, every Thursday from 8 PM.
University Professor Grigore Constantinescu, PhD
Translated by Iulian Arabagiu
MA student, MTTLC, University of Bucharest