A Portrait of the Composer - Cesar Franck with Veronica Zbarcea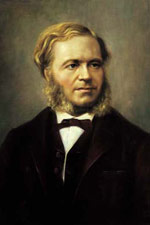 Pater Seraphicusfor students, profane composer for natural descendents, follower of Beethoven's views on music through his own beliefs – César Franck represents a challenge for anyone willing to pencil any of his portraits. Not even Auguste Rodin found it easy when he accepted the order of a sculpture meant to mark his eternal resting place in the Montparnasse cemetery, order given by a few of his disciples, after he passed away...

'Detached from this world's elements, protected by an angel, Frank follows his dream of art in front of his organ's keyboard… ' Joël-Marie Fauquet writes in the introduction to his 1999 volume which comprises the composer's correspondence, this time referring to Alfred Lenoir's second monument placed in the market in front of the Parisian Saint-Clotilde Basilica, whose organ the maestro had played for more than three decades...
This was not the path his father had intended for him... Following the pianists' fashion in the first decades of the 19th century, both César and his brother Joseph had to become absolute virtuosi give concerts and appear in the salons of the days, improvising and fascinating the audience. So that he, a failed Belgian banker turned into his children's manager, could have a good life due to their earnings.

When he was twelve years old he finished his piano studies at the conservatoire in Liége – his native town - but he had already signed for his first concert tour through the Belgian cities the previous year. His father's ambition came true when they moved to Paris for more thorough studies, but they returned to Belgium after only one year. Because he was not French, the teenager was not accepted among the students of the famous National Conservatoire. But he went back one year later, this time successfully. Reicha, with whom he had worked in private during his first Paris experience, was no longer alive, so he studied with Zimmermann (piano) and Leborne (composition). It was not easy, he did not receive first prizes, but he did not dream about this pride either.

Modesty, an apparent naivety and the lack of enjoying feelings such as fame determined him to take life in his own hands and slide away from his father's detrimental influence. He got married at twenty-four years old – during the war – then was hired as organist in different churches, he abandoned his career of virtuoso pianist to be a teacher (private at first); afterwards he worked in small schools and much later - when he was nearly fifty years old - at the organ department of the Paris Conservatoire. All these gradually pushed away the artist's affirmation.
Although there had been attempts during the years of study, the true treasures that made Frank one of the most important French composers of the era, embodied in the pen of this descendent of creative German thinking, appeared after this age. In a society where theatrical genres prevailed, he managed to bring in the last two decades of his life a particular mark to composition conceptions in the instrumental area - for chamber and symphonic music – and mainly, in the most chaste, that of organ music, leaving us with a few masterpieces.

How did César Franck succeed in combining family life with professional tasks, in which the daily duty to the church organ, teaching and composing intertwine (especially during summer holidays),and later his activity at the National Music Society, how did the Belgian who had at first been refused by French society become the spiritual father of some of the most important local musicians of the time (and how did he leave countless disciples to continue his vision; we will name them from the famous La Bande à Franck: Henri Duparc, Gabriel Fauré, Camille Saint-Saëns, Théodore Dubois, Ernest Chausson, Vincent d'Indy, etc.), how was he able to draw force lines on a path of thinking that would change French music (including later concepts of impressionists such as Debussy and Ravel) - these are the landmarks of a series trying to clear something about this maze-like portrait in only ten episodes.
Veronica Zbarcea
Translated by Ioana Niþã and Alina-Olimpia Miron
MA students, MTTLC, Bucharest University