Stain glasses with Ioana Marghita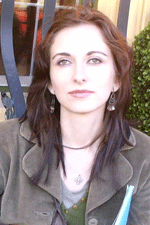 Do not be fooled by the somewhat religious sonority of the name 'stain glasses'. I urge you to get over this habit and look beyond the surface, noticing, for instance, the reflections that the small pieces of colored glass give in the sunlight or the forever surprising dance of colors.

This is the lens through which we shall analyze the musical history of different European cultures, as we try to extract from this colored puzzle those elements which make up the signature, the profile of each individual culture. Through music, the sonorous mirror of its time, we shall be granted access to the inner pulse of the very society where it was created, no matter if we are talking about the Middle Ages or the Seventies.

And from this level, knowing the preferences, the sensitivities, the idiosyncrasies, we will perhaps be able to better understand how certain genres were developed, why certain composers so appreciated these days were discarded at that time or for what reason there have been so many scandals at the premiere of certain works which have grown over time to be regarded as 'classical', whose sonority does not seem at all aggressive today.

With more detailed information and with a great deal of good music I am waiting for you every Tuesday from 7 PM (rebroadcast every Saturday 7.30 PM).
Ioana Marghita
Translated by Iulian Arabagiu
MA student, MTTLC, University of Bucharest