A Portrait of the Composer - Ludwig van Beethoven with Veronica Zbarcea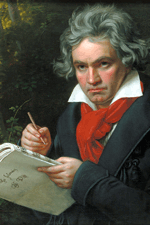 A different kind of portrait in a new cycle of programmes. Every morning, after 'Musica Viva' helped you wake up, we become acquainted with the life and the creation of world's most important composers. Bit by bit, from birth to… the age of complete artistic maturity, we try to create a link between their creations and their lives, following their footsteps.

Could the role of the grandfather- who died as he was but a small boy but constantly revisited him as a ghostly figure- have been so important that it forever marked his life? Was Beethoven's artistic destiny influenced or not by the environment that he grew up in, with the responsibilities that he had to take on from an age when other children barely learned to play on their own?

The 'Humpback' – grumpy old organ player Christian-Gottlob Neefe – wah the one who cultivated his talent, promoted him to become his assistant and later on his replacement, will help him get his first works published and even confess later on in his life (when Ludwig was about 12 year old) that he was 'smug and even proud. You want to know why? Because I had the privilege of being your teacher, Mr. Ludwig van Beethoven'. Could it have been so important that when he was 13 years old he became 'court musician', meaning that he earned enough money to sustain the small expenses that his mother had? The common daily expenses, that every mother has, but which are usually not the child's concern, but the father's. to pay attention each evening to hide the razor before his father came home from God knows what pub, just as a precaution…

Then – Vienna and his meeting with Haydn… etc. Facts about his life that we will try to blend with the appropriate musical passage. This is how we set out to pencil the composer's portrait; for now, it is Ludwig van Beethoven's turn, as you might have realized by now.

A daily series with 30 minute episodes, enough to use the available documents and certain musical pieces to offer you an image as close to his real portrait as possible. And for those of you who cannot tune in every morning from 9.30, there is another change: you can listen the rerun, every afternoon right after 'Drive time' that is starting with 6.30 PM.
Veronica Zbarcea
Translated by Iulian Arabagiu
MA student, MTTLC, University of Bucharest