Cinemusic with Antoaneta Banu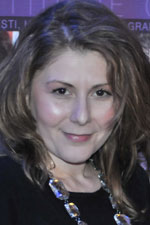 The motion picture is the youngest of the fine arts, but despite this, it has known since its very beginnings how to tie a beautiful friendship with its sisters, finding in the course of time inspiration in theatre, ballet, music, painting.

Music gradually became a 'strategic' partner, thus forcing the Oscars to add on their list the Best Original Score Award.

Great composers have created, especially for films, songs which are now immortal and the musical, a cinema genre created in America, soon became very successful.

Music was a source of inspiration for both writers and directors; some of them have become famous for productions which focus on the art of sounds, on great composers or singers. This relationship developed further, as we can now find literature, music and film all blended into one ambitious project.

This is why Radio Romania Music proposes a programme format which seeks to encompass all these categories and many more other surprises.

Therefore, weekly on Saturday from 12,30, during thirty minutes of broadcast, Cinemusic has in store for its listener an incursion deep inside the world of music and film.
Antoaneta Banu
Translated by Iulian Arabagiu
MA student, MTTLC, University of Bucharest