Successful music stories
Interview with the piano player and the conductor Vladimir Ashkenazy
Sunday, 17 January 2010 , 10.30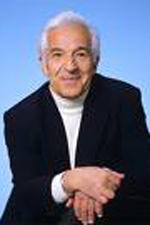 There aren't probably many people who have had the privilege to talk not once, but twice, to a personality as renowned as pianist and conductor Vladimir Ashkenazy (foto).
The first interview was taken in 2008, while the maestro was preparing his concert in Romania, conducting the European Union Youth Orchestra. Vladimir Ashkenazy's presence at the 2009 edition of the 'George Enescu' International Festival was the starting point for the second dialogue. I have selected a few ideas from the two telephone conversations I had with the musician: about how conducting appeared in his concert activity, about his native Russia and about Dmitri Shostakovich whom he had the opportunity to meet in person.
Starting from 10:30, you have the chance to listen to Ashkenazy speaking about all this and playing the piano, but you may also attend the musical result of his conducting perspective. Pieces by Chopin - whose performance has brought him recognition, Mozart, Beethoven, and, obviously Shostakovich, will complete the half hour whose listeners I hope you will be.
You need Flash player 8 or newer to listen to this clip.
Monica Isacescu
Translated by Alina Roxana Chirila & Alina Olimpia Miron