Successful music stories with Monica Isăcescu and Ștefan Costache
Interview with the viol player Vlad Bogdanas
Sunday, 28 February 2010 , 10.30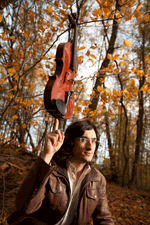 On the last day of February, we will be presenting you a few pages of a story, the first pages of a story, because the guest of today's show is a young musician, at the beginning of his career, but who has already had his first moments of success.
During the previous shows, Ștefan Costache talked to violinist Constantin Bogdănaș, an established musician with an impressive activity in the field of chamber music as member of the 'Enescu' Quartet, an ensemble which was instituted over three decades ago in Paris.
Knowing the artistic path of maestro Constantin Bogdănaș, it couldn't have come as a surprise to anyone that his son, Vlad Bogdănaș, is also a musician; moreover, he also plays a string instrument – the viola – and the path he has taken is similar to that of his father.
Vlad Bogdănaș is part of a highly appreciated ensemble, the Belgian Quartet 'Danel', a name you probably heard for the first time in the Radio Romania Music news and listened to last year during the 'Enescu' Festival.
Talking to Vlad Bogdănaș, we tried to find out if he felt in any way connected to Romania, what the stages of his development were, who the musicians who contributed to his evolution were, as well as the reasons for his decision to specialise in interpreting chamber music, as member of the 'Danel'Quartet.
You need Flash player 8 or newer to listen to this clip.
Monica Isacescu
Translated by Elena Gheorghe and Alina Olimpia Miron