An evening at the Opera
Radio premiere: Merlin by Carl Goldmark
Saturday, 14 January 2012 , 19.00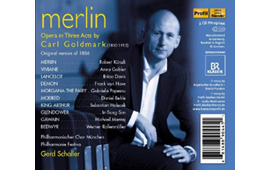 The audition of the opera Merlin was indicated to me by a colleague, Maria Monica Bojin, who, starting from conductor Gerd Schaller's accomplishments, the discoverer and the one who recorded this score in worldwide premiere, considered its presence necessary on An Evening at the Opera. The audition was indeed an epiphany to me, for which I want to thank my colleague through these lines.

For what have I, in turn, discovered? A composer who, not letting go of the romantic era he lived in, knew how to decipher the future of the art of music, and who, without troubling anyone's sleep, knew how to anchor himself deep in the world and profile of the 19th century: Carl Goldmark (1830 - 1915); an eclectic and innovative music, which, at the same time, is marvelously cantabile, an opera which, indeed, must be brought again to the attention of today's artists and music lovers. Only now do I understand why it had such great success a century ago.

So listen to An Evening at the Opera this Saturday. It will propose not just a first audition, but also a score of great emotional depth, commented upon by the one who discovered it and placed it in the international circuit, maestro Gerd Schaller, in an interview offered exclusively to my colleague Maria Monica Bojin.
Luminița Arvunescu
Translated by Anca Pavel
MTTLC, Bucharest University