An evening at the Opera
'If I rest, I rust...'
Saturday, 28 January 2012 , 19.00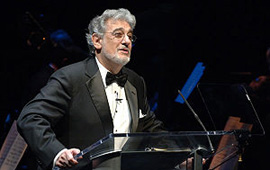 It was yet another
An Evening at the Opera
, and yet another winter - except it was the 29
th
of December 2007 - when we started the series called
The Galas Plácido Domingo
. At that time, Domingo was celebrated at Staatsoper in Vienna and I began my programme with a quote from an article which could probably be written in the same terms today:

'No Anna Netrebko and no Rolando Villazón have managed to create such sensation in Vienna this year, as Plácido Domingo did. He is and will be for many years from now (immer noch der Grösste!) the greatest!' (Salzburger Nachrichten)

Now we are at the fourth Gala (the second one was at the MET, and the third one in Barcelona) and to the 124 roles that were initially in Domingo's 2007 repertoire, today, with the occasion of the broadcast of the Gala from the Covent Garden Royal Opera in London, we add to our auditory memoire his most recent roles, the ones of baritone, Rigoletto and Simon Boccanegra; because, even though he turned seventy-one just last week (on the 21st of January), celebrating his birthday on the stage of the Metropolitan Opera House in New York, singing in his new production called The Enchanted Island, broadcast live on An Evening at the Opera - the great Domingo cannot help himself from learning new roles (changing even his vocal compass), from conducting, from taking part in any musical event.
Why?
Because, he says, 'if I rest, I rust...'

Thus, you will relisten to Domingo singing, even at seventy years old, in the Gala organised for him by the Covent Garden in London, last year, in a rebroadcast only on An Evening at the Opera!

Bonus: declarations from Domingo, as well as from maestro Antonio Pappano, (the musical director of the theatre) given for this occasion, live on Radio Romania.
Luminiþa Arvunescu
Translated by Anca Pavel
MTTLC, Bucharest University