An evening at the Opera
Do not miss this show: The Enchanted Island, live, from The Met!
Saturday, 21 January 2012 , 19.00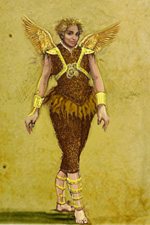 'A triumph... of unabashed extravaganza!' (The Huffington Post)
'A show the critics have called simply: irresistible!!' (Associated Press)
'A terrific cast... a crew who is intelligent, full of imagination and sensibility!' (New York Times)

... these are just three extracts from the commentaries which appeared in the press, right after the worldwide premiere of the opera The Enchanted Island (on the 28th December 2011): which is in fact a pasticcio - a very popular genre in the 18th century - which combines the music of four pre-classical great composers: Handel, Vivaldi, Leclaire and Rameau.

The Enchanted Island, a... baroque fantasy and, at the same time, an opportunity for the New York Metropolitan Opera House to celebrate in the style of one of the most luxuriant productions it has, the cardinal points of pre-classical music, in new sounds, words and colours, placing everything in the context of the libretto proposed by the contemporary Jeremy Sams, who combines the story of the four characters in Shakespeare's play A Midsummer Night's Dream with the ones in The Tempest.

The idea belonged to the General Director, Peter Gelb, and was born a few years ago - it was shared, in great confidence, only with conductor William Christie and librettist Jeremy Sams, who has been in charge ever since of choosing the musical material, and also of the rewriting of the text. And when everything was ready, the cast was elected, the best possible, matching the grandness of the project. And here it is: countertenor David Daniels (Prospero), mezzo-soprano Joyce di Donato (Sycorax), soprano Danielle de Niese (Ariel), bass-baritone Luca Pisaroni (Caliban), Lisette Oropesa (Miranda) and... Placido Domingo (Neptune). A cast for which, even if we will miss the visual element of the show (we will have the commentary of the video broadcast made by our collaborator, Costin Popa, live!) - it is worth listening to the broadcast from the Met, don't you think?



Luminița Arvunescu
Translated by Anca Pavel
MTTLC, Bucharest University