An evening at the Opera
Anna Netrebko, in a Donizettian tour de force
Saturday, 4 February 2012 , 19.00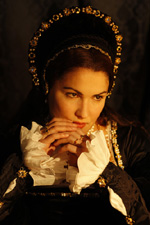 I am not surprised by any of the dates of the most recent stages of the opera Anna Bolena by Gaetano Donizetti! Proposed by the Metropolitan Opera House in New York, it brings forth once again Anna Netrebko in a leading role ‒ whose success in a role had its first echo last season at the 'Staatsoper' in Vienna (a show broadcast live on An Evening at the Opera) ‒and, it also brings once again as absolute sovereign on the Met, David McVicar ‒ whose dialogue with the opera and its artists works with a special force in our century. On the other hand, the presence of conductor Marco Armiliato, as well as of an entire backing of very good soloists, replenishes this idea.

What else is there to be remembered? That Anna Netrebko has once again the role to perform one of the most difficult soprano scores. She made her debut on the Met in 2002 (with Natasha, from Sergei Prokofiev's War and Peace) and, ever since, she performed nine more roles ‒ among which: Lucia, Amina and Violetta ‒ that have assured her the triumph, adding to this the challenging role of Anna Bolena from this season, and, in spring, the hedonistic role of the heroine from Jules Massenet's opera Manon.

And since Donizetti's opera, Anna Bolena, has been absent from the repertoire of the famous lyrical theatre in New York ‒ and also, until 1950, when Maria Callas reclaimed it, from the entire repertoire of the 20th century ‒ even more so fruitful becomes Anna Netrebko's gesture, an artistic, fruitful, audacious and forceful gesture.
Luminița Arvunescu
Translated by Anca Pavel
MTTLC, Bucharest University