An evening at the Opera
Il Barbiere, with Rodion Pogossov
Saturday, 18 February 2012 , 20.00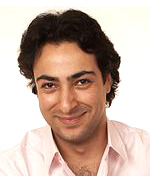 Most opera singers have found themselves facing their most important debuts... just as it happened to Rodion Pogossov with his debut in
Il Barbiere
, at the MET.
• Firstly, someone gets sick or has an accident, or retires from a string of shows: in our case, it all started with the accident of the Polish Mariusz Kwiecień, while practicing for Don Giovanni, three months ago, and continued with his immediate herniated disc surgery, which raised the problem of replacing him for the rest of the season.
• After that, followed the solution: this being for the situation in October, the Swede Peter Mattei - perhaps the best Don Giovanni of the moment, also admired by us in this role with the occasion of the Scaligerian Opening Season. Therefore, what a great joy it was!
• Afterwards, came the conclusion that some of the shows were covered, but others were not. Which means that in October last year, Peter Mattei performed in the Don Giovanni shows, which made it clear that the general manager of the famous New York theatre had to start looking for a Figaro for the reopening of the Bartlett Sher production with Il barbiere di Siviglia, which was already scheduled.

Therefore, another problem had arisen. But, at the same time, it was a great opportunity for the young Russian baritone, Rodion Pogossov, to at last play Figaro at the MET. Thus, Pogossov was the chosen one.

Also, the Russian baritone was one of the scholars of the Lindemann Young Artist Development programme - of which I remind you that we have spoken widely last year at the MET, with the artistic director Brian Zeger and Vlad Iftinca (pianist-coach). He had already played enough small roles on this stage, including Fiorello in the first show of the 2006-2007 season, the role of the explosive debut of Juan Diego Flórez (in Almaviva), and had gotten, in the meantime, great criticism with the role at the Hamburg Opera House. Therefore, Rodion Pogossov was - and still is - the main point of attraction for the reopening of the production; Rodion Pogossov, of whose debut, in October, a magazine said: 'Ah, bravo Figaro!'
Now, I do not know how many of you have listened to Pogossov, or what your opinion is. But I invite you, nonetheless, to listen to him in
Il barbiere di Siviglia
, broadcast and commented
live
this Saturday from the MET.
Luminița Arvunescu
Translated by Anca Pavel
MTTLC, Bucharest University