An evening at the Opera
An Evening at the Opera 'Jussi Björling'
Saturday, 25 February 2012 , 19.00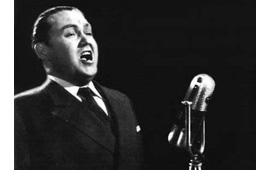 The 25
th
of February 2012 –
An
Evening at the Opera
dedicated to the person about whom other great artists have said the following:
· 'never before him had I listened to a voice of such a high quality' (Renata Tebaldi)
· 'the most beautiful tenor voice' (Boris Christoph)
· 'he had a golden timbre and singing with him was a real source of inspiration' (Robert Merrill)
… An Evening at the Opera dedicated to the swedish tenor, Jussi Bjöling.
Why at the mere end of February?
Simple: because this is the moment of the year when Bjöling's immortality strikes us stronger then ever; a moment pending between his anniversary (2nd-5th of February) and his celebration (the 15th of March), between dawn and sunset...
And why Jussi Bjöling – 100?
Honestly: because we still have, from last year – when we actually celebrated 100 years since he was born! – three live integrals which are completely innovative and which we have received from the European Broadcasting Union, after I myself had dedicated a complete column to this moment.
Consequently, I am coming back this February end with An Evening at the Opera 'Jussi Björling' – in addition: keeping the caption under which the EBU has offered this batch of innovative recordings and in this way emphasizing that, for a hundred years, no voice like Jussi Björling's was heard in the auditoriums.
Luminița Arvunescu
Translated by Monica Ionela Necula
MTTLC, Bucharest University