An evening at the Opera
At the MET, a Don Giovanni with stars, debutants and... lightning bolts
Saturday, 10 March 2012 , 19.00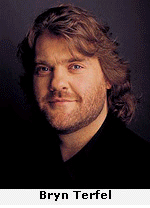 The stars?
· Welsh baritone Bryn Terfel - returning as Leporello, after having accomplished a remarkable Wotan in Wagner's tetralogy and after having evolved in the series of shows with Don Giovanni presented in the opening of his season at the Teatro alla Scala in Milan. (He played the role of Leporello at the MET in 1995 and 2000)
· American tenor Matthew Polenzani - in the role of Don Ottavio, one of the most requested tenors at the MET, who since his debut has sung in over 250 shows, most recent being the new production of the opera La Traviata with Natalie Dessay. (He also played the role of Don Ottavio at the MET in 2004 and 2008)
· Canadian baritone Gerald Finley - sharing in the past years his role as the seducing Don Giovanni with other remarkable baritones such as: Mariusz Kwiecień, Ildebrando D'Arcangelo, Erwin Schrott, Luca Pisaroni or Peter Mattei.
Debutants?
· Latvian soprano Maria Rebeka - in the role of Donna Anna, a name more and more frequent in the cast of great lyric theatres (full voice, flawless technique)
· American soprano Ellie Dehn - in the role of Donna Elvira, the young lady who sang for the first time with the MET ensemble in the summer of 2007 within the democratization project of the opera show, Met-Parks.
· Shanghai bass-baritone Shenyang - the winner of the 2007 Cardiff Singer of the World Competition - in the role of Masetto, an artist who was part of the Metropolitan Young Artist Development Programme and to whom I have listened at the MET, a powerful voice and an unseen musical intelligence.
To which was added: a new production signed by the British Michael Grandage (owner of a Tony Award), two well-appreciated soloists: bass James Morris and mezzo-soprano Isabel Leonard and a baton which may dominate Mozart's famous score with the authority of its preceding success, that of maestro Andrew Davis.
A Don Giovanni live from the MET, which I can hardly wait to see, with composition of lightning bolts...
Luminița Arvunescu
Translated by Anca Pavel
MTTLC, Bucharest University