An evening at the Opera
Khovanshchina live from the MET
Saturday, 17 March 2012 , 19.00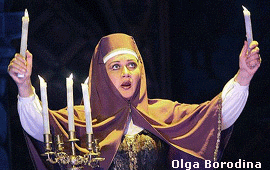 Russian opera, finally: crossing the terrible barrier of the word and investigating the eternal Russian universe.

Russian opera in the idiomatic space of a history where the ideas of the soul behave rustically, but where music experiences its most overwhelming relevance: filled with core and an undeniable originality, like a sign painted directly on the sky...

We do not usually listen to Russian opera live: because at the Scala, Staatsoper in Vienna or Munich, at the Covent Garden or the MET, it is rarely in production and because, generally, its artistic dimensions scare off the lyrical theatres in the Occident. But when we do have the occasion to finally listen to it live and in the inimitable beauty of the performance of the Russian artists, we must be fully aware that we are experiencing an event in the face of which the universality has long confirmed its true value...

Therefore, do not miss the live broadcast this Saturday (18.00). It gives you the occasion to be acquainted with one of the most representative Russian operas, Khovanshchina by Modest Mussorgsky and it also brings from the eternal Russia the genetic force of a spirituality where word, sound, rhythm, rhyme, sonority and ideas seem to flow on their own.
(
Khovanshchina
with all the stars of the Russian opera: Olga Borodina, Ildar Abdrazakov, Anatoli Kotscherga, George Gagnidze and Vladimir Galouzine. Conductor Kirill Petrenko.)
Luminița Arvunescu
Translated by Anca Pavel
MTTLC, Bucharest University