An evening at the Opera
Second live broadcast from the Metropolitan Radio Studio
Saturday, 31 March 2012
5 March 2011
For the first time in the history of thirteen years of live music broadcasts – a history An Evening at the Opera had started – a radio compere from Romania commented a show from the Metropolitan Opera House in New York and she was at the scene. And that was me: excited, pleased and convinced that I was inside the most innovative and dynamic musical institution in the world, called shortly MET.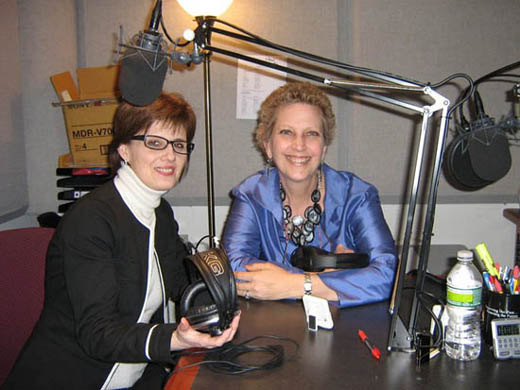 Luminiþa Arvunescu and Margaret Juntwait
Personal effect? An event that brought maximum of audience. With echoes that still seem to reverberate. The certainty that through this kind of presentation of a musical show we managed to cancel the distance between Romanian music lovers and... the place that reunited the best and most glamorous in opera.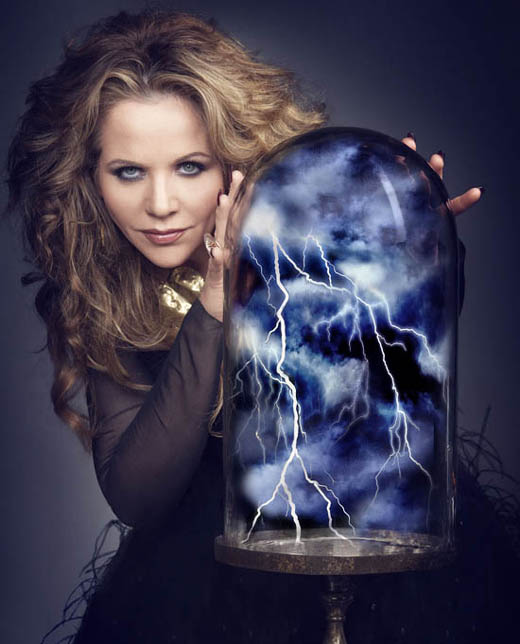 Renée Fleming in Armida
The review of that trip? Five exclusive interviews, four shows watched and commented, three days at the International Metropolitan Radio, the opera Amida by Gioachino Rossini broadcast live and another review programme, I think, one of my most interesting programmes.
31 March 2012
Second live broadcast from the Metropolitan Radio Studio.
What show I will be commenting? L'elisir d'amore by Gaetano Donizetti: the last show directed by the septuagenarian John Copley. Next season this opera will be presented in a different production directed by Laurent Pelly, the author of the great success the production of the opera La fille du régiment; L'elisir d'amore with the best possible cast of the moment: Juan Diego Flórez – Nemorino, Diana Damrau – Adina, Alessandro Corbelli – Dulcamara and Mariusz Kwiecieñ – Belcore and, in addition, the best choice for a spring evening, which I hope will linger in the memories of all opera lovers as bathed in the light of the famous lyrical theatre in New York.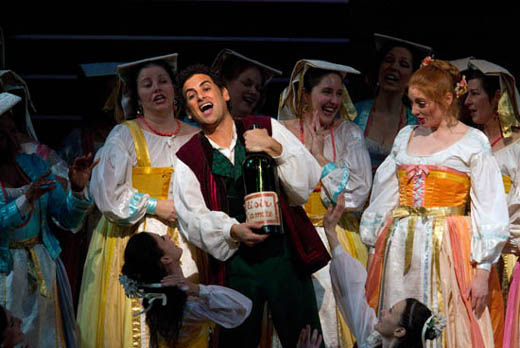 from "L'elisir d'amore"
Who have I invited this time in the studio? Publicist Maria Cristina Necula – a permanent contributor to the Classical Singer Magazine and author of the volume Life in opera: Truth, Tempo and Soul published in 2009 by the Amadeus Press Publishing House in New York; a volume of interviews with Peter Gelb, Renée Fleming, Anna Netrebko, Natalie Dessay, Rolando Villazón, Placido Domingo, Thomas Hampson, Angela Gheorghiu and Roberto Alagna and the same wonderful companion from last year: Vlad Iftinca – pianist and coach at the MET, recital partner of the most important singers (Thomas Hampson, Deborah Voigt, Luca Pisaroni etc.) and, most recently conductor.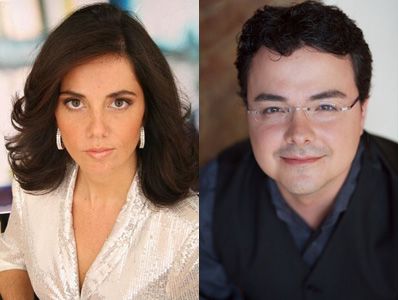 Cristina Necula and Vlad Iftinca
Broadcast production: Engineer Marius Þoghinã
Expectations? An unforgettable night, a new Event – An Evening at the Opera.
As for the review of the new trip, I will be talking about it at length during the programme on the 21 April, and most certainly I will be excited, pleased and convinced that I am talking about the most innovative and dynamic musical institution in the world.



Sponsor: UniCredit Þiriac Bank

In partnership: the Permanent Mission of Romania in the United Nations in New York and the Radio Romania Foundation.




Author: Luminiþa Arvunescu

Translated by Anca Pavel
MTTLC, Bucharest University