An evening at the Opera
The Summer Collection, 4th edition
Saturday, 7 July 2012 , 19.00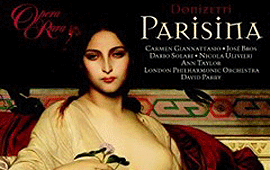 There is a time for each gesture, experience and thought; and before these materialize, the time of the gesture, experience and thought, cannot exist without a firmly declared purpose. And in this time I bring back - starting this Saturday - An Evening at the Opera: in a generic time called 'The Summer Collection', practically, the time in which I can re-declare myself pro rare operas and I can re-affirm my opinion that, during the summer, nothing is more suitable for a melomaniac than the possibility of exploring new music territories, exotic and to 'live' the opera, at the highest levels of cantability.
Therefore, I already scheduled for this summer titles like: Piramo e Tisbe by Johann Adolph Hasse, I Medici by Ruggero Leoncavallo, Vert-Vert by Jacques Offenbach or Marino Faliero by Gaetano Donizetti - operas that are no longer presented on stage today but, surely, they will be first hearings for many of you; and I resumed the collaboration with university professor Helgomar Răducănescu whose soft tone from the previous editions of the 'Collection' resonated - so it seems - perfectly with the proposed music hearings.
So one can say I didn't fail; and to check me up, listen on this Saturday to the first 'collection' opera: Parisina - an opera composed by Gaetano Donizetti in 1832 for Teatro della Pergola from Florence, which became for many decades, one of Europe's favourite Donizetti operas…
As a novelty, if you are on vacation and you missed An Evening at the Opera on radio, on its minisite from the www.romania-muzical.ro page, you will find the 12 editions of the Summer Collection from July-September 2012. So don't hesitate opening the programme's site because on every Monday you will find a new audio folder of An Evening at the Opera from the Summer Collection.
Luminița Arvunescu
Translated by Dobrin Irina
MTTLC, Bucharest University