Luminita Arvunescu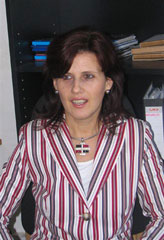 Radio host since 1990
Appointment
: exceptional professional
Studies :
1987- Graduated valedictorian from the The 'C. Porumbescu' Music Conservatoire of Bucharest (the Musicology section)
Ph.D. student at present, preoccupied by the analytical investigation of radio music and culture.
Radio work experience:
Over twenty years, taking into account that I started collaborating with the Radio Music Editorial staff I was a first-year student at faculty.
Major achievements :
Romania Radio Music - the radio station whose launch I prepared with its founding managing Director, Mrs. Mihaela Dobos, and whose editorial strategy I was in charge of during two distinct periods of time : 1996 - 1999 and 2002 - 2004
'An evening at the Opera' - the programme taken over in 1995, and included in the program grids of the RRM and RRC radio stations, awarded the Music Critics Union Prize in 1998, nowadays, one of the most appreciated programmes both by music lovers and musicians.

Other achievements in recent years:
The coordination of the last three editions of the 'R. Wagner' Festival, broadcast live at Radio Romania, very appreciated both by the press and the listeners. The live broadcast of the 'Perpetuum Mozart' project, launched by RRM in The Mozart Year 2006.

Participation in promoting the events organized by RRM:
'Bucharest, city of Music', 'The Music of Youth' etc.
Participation in initiating or coordinating some special broadcasts such as '1997 - 2007, a decade with RRM'.

The favorite radio place:
The live broadcast

The favorite radio language:
Talk - show
I have signed:
Innumerable hall broadcasts for the Radio Season Concerts, dozens of articles published in the Radio Magazine

I have published:
Interviews and concert / opera performance chronicles in Cotidianul, Curierul National, Melos etc.
I have made:
Weekly phone correspondences from various artistic events in Germany between 1993 - 1995

What does the Radio mean to me, aside from what it means to all of us?
It is ... my 'music': which I have been studying and loved for so many years, and which, nowadays, rewards me, daily spurring me to talk about it.
Translated by: Florentina Yvonne Penciu and Mircea Filimon
MA students, MTTLC, Bucharest University