Maria Monica Bojin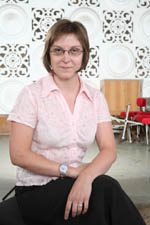 Radio experience
: 'Romania Music Mornings' programmes, 'Romania Music Summer', 'Promo Radio Romania Music George Enescu', 'Info Music News' programme by the 'George Enescu' Radio Romania Music radio station
Favorite programme:
'Romania Music Summer'
The radio is, first of all, the place which has given me the opportunity to be acquainted with lots of musicians; since music is not an abstract concept, it has been useful to find out how the ones who make music think - what they think not only about music, but also about life, and what music means to them. The radio is also a place where I am pleased to work, because I am surrounded by very friendly people, exceptional professionals, with whom I like to work as a team - I have always considered team work to be the best, most wonderful and truest way of expressing professional qualities.
Hobbies
: I am a pianist, so I like playing the piano. I read - I couldn't conceive life without books! I sing in the 'Nicolae Lungu' Choir of the Romanian Patriarchy, and I accompany on the piano in vocal recitals at the National University of Music Bucharest. I also like to ride my bicycle.
Translated by: Florentina Yvonne Penciu and Mircea Filimon
MA students, MTTLC, Bucharest University