Monica Isacescu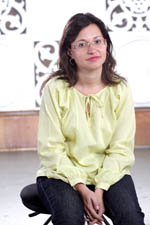 Studies:
1996 - 2001 the National University of Music Bucharest (Musicology section)
2001 - 2002 Post university studies in Musicology at the same institution; at present, Ph.D. student in Musicology. Radio Experience: Starting with 1998, I have made programmes such as 'A Piacere', 'Chromatic Fantasies', 'Info Music News', 'The music hall', 'Prelude to a music lover's afternoon', live broadcasts of concerts, interviews, running commentaries, musical news etc.
Other activities:
Member of the Composers and Musicologists Union of Romania participation in numerous scientific communication sessions music journalism in cultural magazines co-author of the bibliographic Guide: Romanian Music of the latest fifty years, presented in the Music magazine (1950 - 1999) published in 2001.
Prizes:
First Prize at the 'George Breazul' musicological Contest, organized by the National University of Music Bucharest, 2001. Second and Third Prizes at the musicological Contest organized by the Research Center of the National University of Music in collaboration with the music Group Board of the Romanian Radio System Society, 2000.

I'm living the most wonderful moments - outside the radio:
With my family or my friends; at the theatre, at concerts, in show rooms or museums, on holidays, travelling.
If you want, you can write to me at the address:
monicaisacescu@srr.ro
Translated by: Florentina Yvonne Penciu and Mircea Filimon
MA students, MTTLC, Bucharest University