Disk of 2021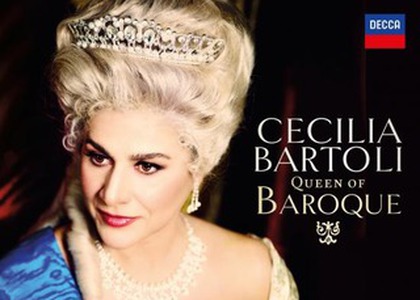 Mezzo-soprano Cecilia Bartoli - `Queen of baroque` - Music box, January 11th, 2021
For the first edition of 2021 for the discographic news program from Radio România Muzical, I focused on an album signed by the famous mezzo-soprano Cecilia Bartoli, a disk that has its eyes set both on the future and the past. Because it comprises a selection of records already released, but also two musical arias that have never been published until now under the signature of Cecilia Bartoli, who once again proves that she is a true "Queen of baroque", like the name of the presented album. The two arias are part of the works Il trionfi del fato from Agostino Steffani and Allessandro nell`Indie from Leonardo Vinci, recorded in 2012, respectively 2009.
Queen of baroque has been released under the auspices of Decca recording house on November 27th, 2020.
In the recent years, Cecilia Bartoli got us used to a new author disk per year, released in November-December. After a long time, we are presented with a compilation disk with recordings from older successful albums that highlight the outstanding consideration paid by the Italian mezzo-soprano to the Italian baroque, that otherwise suits her perfectly. Cecilia Bartoli who is not only a singer with an outstanding voice, but also a very vivid and curious intelligence, has had an enormous contribution to the rediscovery of some forgotten repertoires, where the focus was placed on virtue and also sensitivity.
We find on this album the famous aria Lascia ch`io pianga from the work Rinaldo de Handel, recorded in 1996 and released on an album that comprised the entire work. Then we have an aria from the work Astarsese from Ricardo Broschi also recorded in 1999 and published on the album Sacrificium. And lastly, two moments from Stabat Mater: from Pergolessi, from 1991, one of the first successes of Bartoli, alongside June Anderson and from Stabat mater from Agostino Steffani, published in 2013, with tenors Julian Pregardian and Daniel Behle and the countertenor Franco Fagioli.
On the album Sacrificium published in 2010, Bartoli interpreted the famous aria Ombra mai fu from the work Serse de Handel; on the album Opera proibita from 2005 we find an aria from drama per musica Il trinfo d`inocenza from Antonio Caldara. On the album Live in Italy from 1998 an aria from the work Griselda from Antonio Vivaldi. On the same album Sacrificium from 2010, we find an aria from the work Germanico in Germania from Nicola Porpora.
All of them, edited now on the album Queen of baroque, released on November 27th, 2020, which presents moments recorded 15-20 years ago, show us an extraordinary voice that kept its quality through time and the taste for a repertoire that is difficult to interpret and less known to the large audience, but very spectacular.
Cristina Comandașu