Disk of 2021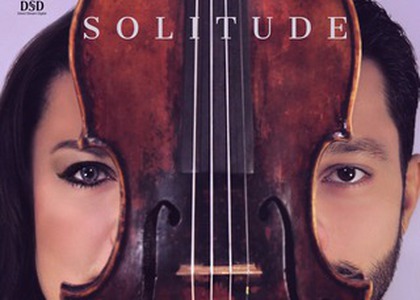 Violinist Răzvan Stoica and pianist Andreea Stoica - album "Solitude" - Music box, January 18th, 2021
I invite you to listen the latest album signed by violinist Răzvan Stoica and pianist Andreea Stoica - Solitude, released on December 1st, 2020.
An album lasting almost 40 minutes, which you can access on online streaming platforms, a pandemic album released under the guidance of the Dutch house Le Foxx Music - famous violin and piano pieces, with a common denominator in terms of the character of the performed music, which I found best expressed in the expression sweet sorrow - a bitter sweet, a state of melancholy without a depressive nuance, however.
A pandemic album, which I talked to Răzvan Stoica about.

Why Solitude? I think it's easy to guess, but I think we need to talk about what loneliness and isolation mean for pandemic artists.
Indeed, we started from this pandemic and from the situation created at the beginning of spring and summer, when, together with Andreea, we thought of making a new CD. Initially, we wanted to record something completely different, it had nothing to do with what we have on the album "Solitude", but we were not allowed to actually enter the studios and it was complicated. I had a lockdown in Germany, in the Netherlands, and in the studio I was working with, and I couldn't get in.
So, one evening, we thought: what would it be like to register at home? Yes, it would be a good idea, but how do we do that, we don't have equipment? I called the sound engineer in the Netherlands and asked him if it was a viable option. "Sure, but we have to send the equipment to Bucharest." I said, "Okay." We send it to Bucharest and we will do everything remoted, zoom.
For two weeks I blocked the whole house with a lot of microphones. We had about six microphones because we had to record multitrack. A very good friend of ours helped us tune the piano so that it would be tuned all the time; a man I trusted and who was safe in every way. And, lo and behold, we started recording a CD at home
We didn't choose the program before, we didn't know what we were going to record, but we said to ourselves, ok, all the emotions, all the feelings, these feelings of loneliness, I don't know, of out of sync, in a way, how could we do we translate them through music? And so we chose a less sung repertoire, which we don't usually sing in our recitals, especially Vals trist by Franz von Vecsey, which is one of the less sung songs now, in our years, although it was a hit in 1920s, 1930s. So is Estrellita in the arrangement of Jascha Heifetz or La plus que lente by Debussy. So is Dvorak, a song I first discovered this year when I did a live that was even given by Radio Romania Music.
We put them together and started recording them, actually, every day, while we had the sound engineer with us, connected by video call. I tried to record as much of one as possible, because editing time was a bit impossible for me, not being a professional audio editor. Many times the sound engineer told me that you can breathe or it sounds very natural when you attack ... yes, we are not in the room, we are not in the studio, we are in the house. Yes, but that adds truth to the recording, it seems more real. And it was really a premiere and a new thing for us.
We were lucky to have a partnership with a Dutch company that was taking a piano from the Netherlands to a museum in Bulgaria. I talked to that company ... "Can you leave the piano at home too?" "Home, where?" "Home to us!" "Okay, we'll bring it to you two days early and leave it for a week or two." And so, I also got in touch with a very good tuner because during the recordings the piano was still out of tune, it was imperfect and we had to bring it to the same intonation. Indeed, I was lucky with a very good piano.

I would like you to tell us which are the songs you have recorded before and why did you prefer to sing them now, in this context?
They came in a natural way. We tried, apart from Chopin, Andrea's solo piano piece, we tried to stay somewhere in the early 1900s, because there is a special energy of those years that we found ok during this period. And, in a way, to come as a bandage of the soul. Indeed, I recorded another song, Fratres, by Arvo Part, but not Spiegel im spiegel, I just sang them live. We also sang Fritz Kreisler's Liebesleid, songs we love and sing at encore concerts. And, Francisco Tarrega's Alhambra, a very difficult piece, which I discovered in this pandemic and, actually studying it from scratch, I discovered a multitude of techniques through which you can highlight on the violin an accompaniment, a very interesting. I said: we also put this piece on the disc, although it may not fit in with the rest of the songs, which are slower. And another premiere is the fact that we don't have any virtuosity pieces, which we usually put on the disc. But now we really wanted it to be a premiere, without any play ... of course we could put on a Sarasate play or something very spectacular, but we really wanted to stay in this sentimental sphere.

I would say that the general tone of this album, after listening to it with great pleasure, I admit, is defined by two words in English, for me at least, sweet sorrow, that's exactly what it seemed to me! This sadness or longing, but which is sweet, is not in a depressing tone. And, I was wondering, that's how you lived, do you still live this period that I think is very difficult for all of us, for artists even more so?
Yes indeed. I think I went through some hard times. Any artist, when he no longer has a date, a target in which he knows that ... "ok, I study to reach, to sing to the public, to have contact with the public", it's like how would you leave him breathless. And then, you try as much as possible to connect even through the virtual environment or through the music you make at home, trying to make more strings or new repertoires, so that you can stay in the healthy sphere of an artist, without falling On the one hand, I don't know, depressed or something. Yes, indeed, we tried to keep this sweet beacon of music or life during this period. Even with my students, I have a very good contact online and they said to me ... "ok, but what are we studying for now?" or "how can we continue to study or feel like studying?" "Look, we can, for example, take on a challenge. We will sing one study a week and see who does it faster or who sings better. " And they said, "Oh, that sounds interesting!" And they started to study and enter into small competitions with each other just to keep this vibration of the artist alive, because in the end we will return, for sure, only we go through some less easy moments.

Will we return the same or do you think it will be different? We will return, but otherwise ...
We will return differently. From many points of view, maybe better, because we will know how to appreciate more the things we took very easily and naturally ... now we will appreciate them more. A concert in a hall with an audience, a man's breath or even that cough between the parties ... we will know how to appreciate because it means energy, it means life, it means music and we, in fact, that's what we do, that's our life, towards that's what we dedicated ourselves to.

Now is an opportunity and you have to address a message to the public, to those who will listen to this album and rediscover you differently than they knew you ... and a message, here, from an artist to his audience that he does not can meet now!
First of all, I want to thank them that they exist and to thank them in advance for what will come, because we know that they will not leave us, we know that they were there through Musical Romania, through CDs, via youtube and so on They stayed there, they are with us, I know they are also waiting to come to the concert! I hope that during this period at least to alleviate them for the longing of a live concert, this CD that will be available physically from January 30.

Will you get vaccinated?
Yes, of course. We want to get rid of this pandemic as soon as possible and I think it is up to us to bring our contribution. And I think that in order to save our lives we need this vaccine and we need to vaccinate as many as possible!

Solitude - an album recorded at home, a way in which the two musicians express the feelings experienced in the pandemic: melancholy, but not depression, reflection and love. The first album signed by Răzvan Stoica where virtuosity is not at the forefront, but expressiveness and sensitivity. I knew the virtuoso Răzvan Stoica and I am glad that the sensitive Stoica is up to the virtuoso. A mature violinist now, who in this difficult time for all, generously offers us his art, a cure for loneliness and sadness. With a lot of hope for a normal future that will undoubtedly come.
Cristina Comandașu