Disk of 2021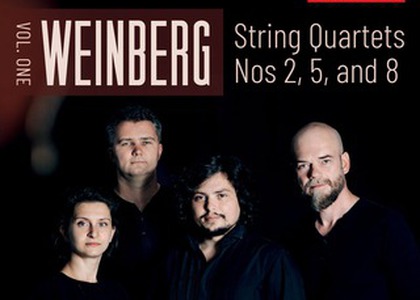 Arcadia Quartet. Integral Quartets by Mieczyslaw Weinberg, Volume 1 - Music box, January 25th, 2021
The newest disc signed by the Arcadia Quartet was released on the 8th of January 2021 at the British record label Chandos.
This is the first volume in an integral of the Weinberg Mieczys≥aw quartets, an album that has already attracted the attention of the international world: it was, at the beginning of January 2021, the disc of the week on BBC Radio 3.
The Arcadia Quartet, made up of violinists Ana Torok and R"zvan Dumitru, violist Traian Boal" and cellist Zsolt Torok, is currently the most internationally known and appreciated Romanian quartet of the moment. It is an ensemble in residence of the National Centre of Art Youth Romanian in Bucharest, and the 4 musicians who compose it are members of the Transylvania Philharmonic Orchestra in Cluj.
Mieczys≥aw Weinberg was born in 1919 in Warsaw to a Jewish family, his father being originally from Chisinau, where he had lived until 1916. During World War II, he fled to Ukraine, and the end of the war caught him on Soviet territory, where he remained until the end of his life in 1996. He went through Stalinist cultural purges and was a close associate of Shostakovich. It is strange that history had forgotten him until the 2000s, when his creation began to be sung again.
Here is an unmissable disc - a still very little-known repertoire, which reveals to us a composer of great talent, with whom history was unfair - Mieczys≥aw Weinberg. And an ensemble that understands very well the message of this music and that leads us with certainty and delicacy, at the same time, among its troubled meanders.
I've been talking to TraianBoal" about this record.

Why precisely Mieczys≥aw Weinberg?
To be honest, it wasn't exactly our idea, but I embraced it very quickly. It was a proposal from Ralf, the director of Chandos, and, on a very rapid search of Mieczys≥aw Weinberg, we were instantlyfascinated. We were also surprised we hadn't heard of him before. It has music so well written, deep, complex, tender to the public and to the performers, that we were surprised and still wonder that it is not sung more often and is not known as much as it deserves. And from that point in which we accepted the registration of this integral, it was very easy to choose the first three. Now, I've chosen the next three. There's a new recording session coming up for the next disc, and we're really excited about this project.

What is the specific of this music, which, indeed, is a very special one? We must remember that Mieczys≥aw Weinberg was very good friends with Dmitri Shostakovich; lived, therefore, in the same period and, moreover, influenced themselves greatly. However, The music of Mieczys≥aw Weinberg is not the music of an epigon of Shostakovich or a composer who stands in the shadow of Shostakovich, but has a very personal pattern. Can you tell us a little bit about this?
From our point of view, Weinberg's music is, say, a kind of collage of styles and influences, but the way the collage is made is one so personal and so well shaped that it becomes his own language, somehow. In this respect it reminds me of Zemlinsky's music, which, although different in style and musical language, has the same way of letting himself be influenced by various currents, by various musical ideas and putting them together in their own way and very easily identified later.

This integral of the quartets by Mieczys≥aw Weinberg has been recorded once more,quite recently even after the 2000s, by the Danel Quartet, of which a Romanian is also a member. When you designed your own interpretive version, did you take into account what happened there? Could you comment in parallel with their interpretation of what you have done?
I knew about this recording with the Danel Quartet. We have listened to it, of course, over time, but, as an approach to Weinberg's music, we have not let ourselves be influenced at all by that opinion. That was a trend that I personally had, and apparently my colleagues, too, since we were very young, students... this trend I've had for as long as I can remember; to listen to music, but the moment I approach a work to play it myself, to do it with my own voice and with my own thoughts, and so on.m. Because copying someone's ideas is impossible to play them in the same way - everyone has their own voice, their personality. And, broadly speaking, we always leave the directions in the score. What is it, at some point it can become ambiguous... we study the phenomenon, we study the composer, things in his life, we try to identify and elucidate that mystery... over which, of course, our own thinking overlaps, that is why we call interpretation, we do not call execution.
The result is a rather different one from the danel Quartet's interpretation. A parallel to that interpretation with ours, say, would be that the tempo we use, for example, is a little slower than theirs. There's a trend, if you look at the minuteness of the pieces, ours is a little higher. But in principle, we listened to and interpreted them, and we saw that they too are approaching the same thing that we are approaching, to play that complexity of thoughts and states through which music passes through its unfolding.

On the other hand, I think you have also emphasized one aspect, which I think is specific to Weinberg's music, on the dream, on a state of dreaming, of taking it to another world. Is that so? I, at least, felt that way when I listened.
It is so and the inspiration was an apparent paradox of the fact that studying and reading about Weinberg's life and the dramas he went through, the fact that a Polish Jewish composer lives in the middle of world war and goes through all the problems, including later - he also had problems with Stalin... given all the dramas that have happened in his life, you would have expected as listener that Weinberg's music would have a very serious component of drama, which is not the case. It's very interesting that his music is serene, here and there - cheerful, it can be energetic, it can be expansive, it can be introverted, but you don't often encounter the drama you would expect from a man who has passed so many hardships. And then, you can only interpret this in this way, in which music for him was a refuge. He imagined another world, perhaps ideal, in which to carry out his life in opposition to the reality in which he was.

Let's also talk a little bit about the fact in which the disc was actually recorded. When did this happen, how many days did you record?
It happened in March last year. I remember it was the very beginning of the pandemic problems. It was the first time I wore a mask on the plane. Not much was known yet. No one had been quarantined, but we returned from the UK on 6 March and... The recordings lasted three days, as I recall. Chandos has a recording studio somewhere very remote, in the UK, with a superb atmosphere around, with forest, tranquility; in an old hangar was arranged this recording studio, which has a fantastic acoustics. And as an interpreter, you have the opportunity to relax, focus on what you're doing there, and we have absolutely nothing else to do. We wake up in the morning, we have a three-hour recording session, then lunch comes, we rest a little... evening, three more hours of recording and dinner and, again,free program. It is the absolutely ideal place to make a disc of this kind.

And about volume two... you have already registered, are you going to register? When is it scheduled?
It would have been scheduled now, in February, but given the problems that exist, we have to postpone. The next date is may, but we'll see if that stays. I selected quartets 1, 7 and 11 for the second disc. We have to be careful. However, it is very little relevant to us the order in which we do them, because we will do it all anyway, but we are also paying attention to the time it takes for each of the quartets to fit on a disc; there are also things to manage in that sense. So, the next session is in May 2021, with Quartets 1, 7 and 11.

And one last question, which I asked myself... You are four artists from Romania who believe that through their own life experience i can better understand the message of Weinberg's music. Perhaps those who really did not experience communism on their own, perhaps not in the form that Weinberg experienced, but those who did not experience this on their own, I think it is very difficult for them to understand, in fact, what Weinberg's music hides... who believe that, like Shostakovich, gathers in his music the sum of some experiences that he has had and which are very difficult to decrypt by those who do not understand what there is about. Did you feel advantaged by the fact that coming from here in Romania, you have a different perspective?
I can't say that we have necessarily felt advantaged by this aspect, given that there are rare cases, that's right, but there are people of all cultures who can understand and assimilate the music of cultures completely different or very far from them. But it is indeed known that every man's life is also marked by the experience of the society in which he was born and evolved, even if he did not necessarily have a direct connection to those events. From this perspective, we can come to the conclusion that the fact that we are from Romania... and, by the way, Weinberg's family comes from Chisinau, at least his father, surely he was a speaker of the Romanian... it's an area pretty close to us, at least Weinberg's juncture. But it wouldn't surprise me if people from England, or America, or Australia, or other places on the planet, understand and play, interpret Weinberg's music in a very profound and qualitative way.
Cristina Comandaļu