Disk of 2021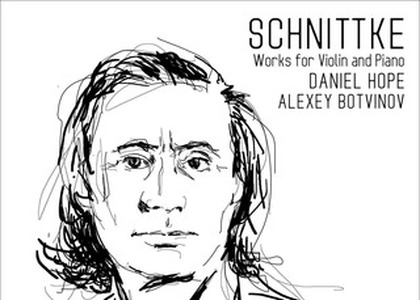 The violinist Daniel Hope and the pianist Alexey Botvinov – Music Box, 15th February 2021
An album launched internationally on the 5th of February 2021: pieces for violin and piano by Alfred Schnittke, interpreted by Daniel Hope and Alexey Botvinov, operas recorded in November 2019 at the Beethoven house from Bonn, presented now on a disc launched under the emblem of the Deutsche Grammophon house.
It's an opportunity to know better Alfred Schnittke's music, who the violinist Daniel Hope considers one of the most important and interesting composers of the 20th century. Born in 1934 in Engeles, city inhabited by German ethnics from the Soviet Union, so beautifully evoked in Guzelei Iahina's novel, My Children, who died in 1998, at Hamburg: Alfred Schnittke studied at Moscow and Vienne, incorporating in his musical experience very diverse aspects - that's why, his chameleonic style is well known, polystylism, in which we recognize stylistic features characteristic to musical art from the past. Alfred Schnittke wasn't loved by the communists: he wrote film music which gave him enough space for personal expression, but that was a reason he was seen rather as a second hand composer. Even though his miniatures have a particular charm, the same they are on this Polka disc, the record inspired by Nikolai Gogol's The Overcoatand Tango, from the Agony music film.
Daniel Hope, the famous English violinist established at Berlin, became a symbol for reinventing classical music during the pandemic in 2020: millions of people watched concerts broadcasted live on social media every evening from the violinist's living room, in Berlin. And just as many appreciated the relaxed, warm and optimistic way with which Daniel Hope supports these events, both as a presenter and as an interpret.
Daniel Hope is now 47; he got in touch with Alfred Schnittke's music for the first time in 1989, when he was 15, and in 1992 he got the chance to meet him in person and to initiate himself directly from the source on the musical universe of Alfred Schnittke-the meetings would last until 1994. In 1992, by coincidence, Daniel Hope got to travel in a car alongside a high KGB officer, getting to find what the URSS officials though about Schnittke: considered "tinder", in comparison with Șostakovici and Rostropovici, named "true soviet artists".
But history made justice to Schnittke, and Daniel Hope's new album has a big contribution to the correct reception of the soviet-german composer's music: for example, the Suite in Old Style, dated in 1972, that has at base themes from the film music created by Schnittke for the Adventures of a Dentist and from a sport documentary… A world of baroque reinvented in the 20th century, with the fragility and the serenity of a world which seemed surreal during the soviet times.
Alfred Schnittke and Polystyilism-here it is, on this disc, Mozartian in Gratulationsrondo, ironic in Stillenacht andreflective in a language suggested by Madrigal in the memory of Oleg Kagan, composed in 1990. In an article written little after Alfred Schnittke's death, Daniel Hope concluded: "In my mind there's no greater talent in the contemporary music than the one of Alfred Schnittke's".
The first work of Alfred Schnittke that Daniel Hope ever approached was the No.1 Sonata for violin and piano, composed in 1963. Daniel Hope was 15 when he played it for the first time. Now, 30 years later, Daniel Hope confesses: "The No. Sonata is a piece of extremes. Each part encapsulates a musical idea: the first part - about Schnittke's vision on serialism, the second part - the obsession for folk music. In the third, a quote from the Șostakovici's piano trio, and in the fourth, a quotation of the Latino-American theme La cucaracha. It's a joy to listen to it and interpret it".
Certainly, a disc that impresses - with its reportorial selection, which sheds light on the various compositional facades of Alfred Schnittke, as well as with the dedicated and full of warmth interpretation of the two musicians. Certainly, Daniel Hope loves this music and I wonder how many young violinists would dare to do what Daniel Hope did in 1992: to find out by chance where Alfred Schnittkelive in Hamburg and to simply come and knock on his door, asking to come in, to meet him and tell him how much he appreciates his work, opening this way the history of a friendship that ended once the composer died. In a time when it seems that we learn to appreciate more life and its beauty, these kind of stories have a healing role; and Alfred Schnittke's music in itself seems to warm, especially in Daniel Hope's passionate interpretation.
Cristina Comandașu