Disk of 2021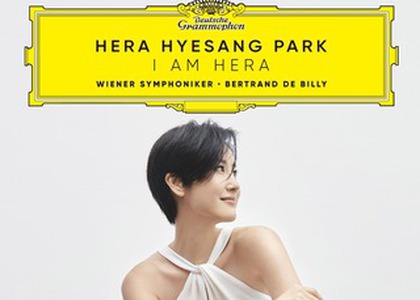 'I am Hera' – soprano Hera Hyesang Park's first solo album
"I am Hera" is the title which soprano Hera Hyesang Park has chosen for her first solo album, launched digitally in November of 2020. Her album was released as a compact disc as well, in January of this year. With this occasion, the young soprano has signed an exclusivity contract with the label Deutsche Grammophon.
Having been blessed with a generous voice, showcased with an excellent vocal technique and an amazing musicality, Hera Hyesang Park is one of the most promising talents of modern opera. "The voice, with a pure and delicate timbre, radiates sensibility in the middle register and luminosity in the high register." - is what is written about Hera Hyesang Park, the artist who looks like a cinema star, beautiful, sophisticated, and with an extremely pleasant scenic presence. Her flair for fashion has caught the attention of the editor in chief of "Vogue" magazine - Dame Anna Wintour - who has chosen the dress "GiambattistaValli" which Hera Hyesang Park has worn in 2018, at the Metropolitan Opera Gala in New York.
Hera Hyesang Park's personality and evolution have been modeled by her Korean roots and the experience she has gained in Europe. Chroniclers have started to follow her evolution since 2015, when she finished her studies at the School of Music from "Julliard School", immediately becoming a member of the prestigious Young Artists Development Program "Lindemann" from the Metropolitan Opera. This program allowed for her debut at "Met" in 2017, in the opera "Rusalka" by Antonin Dvorak, successfully returning two years later,playing the part of Amore in Mark Morris's production of the opera "OrfeoedEuridice" by Christoph Willibald Gluck. Hera Hyesang Park hopes to come back to "Met" in the 2021-2022 season, with "The Magic Flute", by Wolfgang Amadeus Mozart.
"We are delighted to welcome Hera Hyesangto our great family of artists", said dr. Clemens Trautmann, the president of Deutsche Grammophon, about the collaboration with the South Korean artist.
"I am Hera" is the title which the artist has chosen for her debut album, made up of pieces very dear to her heart. "Instead of making myself perform a list of songs that might impress others, I decided to take a chance on myself and perform songs that resonate with my core values" - Park said in an interview with Opera Wire in May 2020. The album includes pieces Bellini, Gluck, Händel, Mozart, Pergolesi, Puccini and Rossini, but also pieces from the great Korean composers Joowon Kim and Um-Yung La. "I'm very happy to join a label that values the best of the past, understands the needs of the present and wants to shape the future." - Hera Hyesang Park said when she began recording with the Symphonic Orchestra from Vienna, conducted by Bertrand de Billy.
During the five editions of the "Opera and its stars" - starting on Monday, February 15th, and ending on Friday, February 19th, at 11.00 o'clock - you can listen to this album, launched in November of last year and included in the project "Records of the year 2021", in premiere at Radio RomâniaMuzical.
Jeanine Costache