Disk of 2021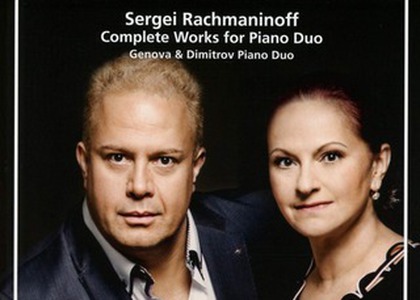 Genova & Dimitrov – Rachmaninoff: Complete Works for Piano Duo – CD Review, October 5-7th 2020
In their latest discographic release, one of the most precious piano duos of the moment - Genova-Dimitrov - offers the opportunity to contemplate and have an in-depth approach to the complete works for two pianos or piano four hands of Sergei Rachmaninoff. This double album, released at CPO on February 24th 2020, has conquered entire musical Europe. It is considered the most valuable project of the piano duo of Bulgarian origin, which celebrates its 25th anniversary of concert activity with its release.
The two artists talk about the beginning of this collaboration in the album's booklet: "Shortly before going to South Korea to participate at a solo piano contest, only one rehearsal room was available at the University of Music, Drama and Media Hannover (the place where the two of them had completed their studies, and where they currently run the Piano Duo Department). There were two pianos, so we decided spontaneously to play one of Chopin's étude. It was as if we had been lent wings all at once." A couple of months later (it happened in 1995), Anglika Genova and LiubenDimitrov won their first major competition for two pianos at the ARD International Music Competition in Munich, followed by other three international competitions - Murray Dranoff Piano Duo Competition in Miami, Tokyo Piano Duo Competition, and Bellini Music Competition in Caltanissetta. Since then, the Duo's prestige has grown exponentially. It has been invited to give concerts everywhere across the world, from Washington to Cape Town, from Beirut to Beijing, without mentioning the grand festivals and European concert halls.
Until now, they have released 15 albums in this formula: Duo's of Dmitri Shostakovich, Johann Christian Bach, Muzio Clementi, concertos of BohuslavMartinu, Alfred Schnittke, Darius Milhaud, Francis Poulenc, Robert Casadesus, and Felix Mendelssohn. In 2017 they won the Echo Classic Award for their album "Béla Bartók & Victor Babin - Concertos for Two Pianos & Orchestra", the last one recorded in a world premiere, and in 2019 they were nominalized for the OPUS CLASSIC Award after the release of "Carl Czerny & Max Bruch - Concertos for Piano Duos and Orchestra". Today, all the related specialized publications recommend in the most laudatory terms the release of Rachmaninoff's Complete Works, which starts with a well-known Prélude in C-Sharp Minor, thunderously climbing to the climax to return to a peaceful solution towards the end. It is one of the most famous Préludes by Sergei Rachmaninoff, which was always required of him as an encore at his concerts.
This double album brings together all the Russian composer's works for piano four hands, and two pianos. There are well-known works among them, such as the Suites No. 1 and 2 (Op.5 and Op. 17 respectively), or some entirely new for us, as well as composer's transcriptions of the Symphonic Poem The Rock, and Symphonic Dances, Op. 45 for Orchestra. It's not only the project's magnitude that dazzles, but also and especially the interpretative vision of the two pianists, the emotional quality of the proposed discourse, the attention to detail, to the profound significance of the music and the symbiotic way in which they relate, the perfect balance of the sonic layout, as an experience gained over the years.
Aglika Genova tells the exciting story of this discographic release in an interview. "We were very young, students in the class of Prof. Vladimir Krajnev. While talking about the programme of our first competition as a duo, our beloved Professor casually said: Rachmaninoff - Suite No. 2, one of Mozart's Sonata, and Schubert's Fantaisie. We have never imagined that 25 years later, these words would be the seeds for such a voluminous project. Rachmaninoff's works for two pianos or piano four hands are numerous and last about 150 minutes. It took us a year to materialize this idea, and now we have come to this point with this double album and the first global audition of it. We're are gracious that Lord gave us the forces to carry out this project."
Among the original compositions in this highly-praised Rachmaninoff album, we come along the 6 Morceaux Op. 11 for piano four hands for the first time. It's a kaleidoscopic display of sentiments and colours, owing to the profile of these compositions, seemingly incorporated into Salon Music, but which, however, exceed their status due to the refined interpretation of the Genova-Dimitrov Duo. These compositions, very different from others in terms of imaging and technique level, were designed to be played in homes' privacy. The idea is to create moments of profound soul intimacy for those who can lay their hands on the piano keyboard and share this experience with someone close. The years are 1893-1894.
Certainly, any recording of complete works implies considerable effort from those who undertake such a path. But when the interpretative component exceeds the pre-set canons, we enter a land of the marvel, with the afore-mentioned transparencies, flawless passages, palette of great diversity, meditative states which do not exclude the giocoso accents or drama when the score requires it. We discover this symbiosis at the level of musical thinking; the two pianists breathe together and emphasize the beauty of Sergei Rachmaninoff's ever-present music above all. They offer us insight into the composer's inner world while he "still had a motherland". Also, they show us his last opus - Symphonic Dances, composed out of longing for Russia, "with the memory of what was, and of what could have been" if he hadn't been exiled from a country awe-stricken with revolutionary impulses.
Marina Nedelcu