Disk of 2021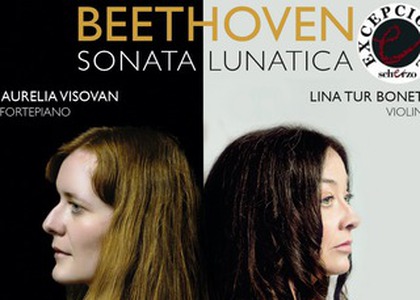 Lina Tur Bonet - violin and Aurelia Visovan - piano. Album 'Sonata lunatică' - Music box, March 1st, 2021
Lina Tur Bonet - violin and Aurelia Visovan - piano. Album 'Sonata lunatică' - Music box, March 1st, 2021
I propose a disc released on December 11th, 2020 by the Belgian house Passacaille, on the cover of which we find the name of a Romanian pianist: Aurelia Visovan. On this album, entitled Sonata lunatică - two sonatas for violin and piano by Ludwig van Beethoven, the ninth and tenth, performed on historical instruments - a violin from 1724, with an archer from 1780 and a fortepiano, a copy of an instrument from 1815.
Along with Aurelia Visovan, violinist Lina Tur Bonet.
Certainly, a challenge proposed by the two performers who suggest a different vision of Beethoven - once, thanks to the sound of the instruments, which dates back to Beethoven's time, but also to a natural musical perspective, close to the revolutionary and stormy Beethoven, as was, moreover, the famous composer, as a man and musician. Once you get used to listening to a fortepiano instead of a piano, you also notice the refinement and richness of detail in the performance of the two musicians - appreciating once again the courage of the musicians to be different in a world where sonatas No. 9 and 10 Beethoven have been recorded so many other times.
Aurelia Visovan, born in 1990, began studying piano in her hometown of Sighetu Marmației and continued in Cluj and Vienna, the Academy of Arts, where she currently teaches. Since 2013, he has also addressed the study of harpsichord and fortepiano, being one of the very few Romanian musicians who have asserted themselves internationally by playing on such historical instruments. Her professional path is staked by numerous and important awards; the disc you are listening to is the third one to have its signature.
Of course, listening to Beethoven sonatas performed on historical instruments is an extraordinary experience, especially these two last sonatas for violin and piano, recorded so many times before prestigious musicians.
So I accompany the audition of the two works with an interview with Aurelia Visovan.

Why did you turn from piano to fortepiano, which seems to be a less tender instrument, which we have to admit is true, but which has a certain specificity that I let you talk about?
I started with harpsichord studies in Vienna, so I went to the other extreme, so to speak, fortepiano is something between, historically and technically. The harpsichord technique and piano technique combine to fortepiano. For me it's not a less tender tool. It is a tool, indeed, less versatile, in the sense that it does not lend itself to any type of music, but is designed exactly for a certain era. And conversely, music is written for the instruments of the time. So for me it's very, very interesting to listen to what the composers heard at the time. It's also a research job, but it's also a pleasure. It's a way to time travel. It's very fascinating to me.

I think it was a real courage on your part to tackle two Beethoven sonatas. First i ask you, why did you just choose Beethoven for this project?
We're getting closer to Beethoven`s year. Unfortunately, the year of Beethoven as we know, it's kind of dispersed and that fact is continuing. We have, however, managed to publish the entire registration in 2020. We were thinking about Beethoven, but it was also about the instrument. We really wanted to record on such instruments and it is exactly an instrument that lends itself to Beethoven's music. Beethoven's sonatas are indeed very difficult, the Kreutzer Sonata is very well known, so it's always difficult to bring anything new with it, but I discovered a new edition of sonatas edited by a great musicologist and specialist in old music, Clive Brown, and I discovered a lot of signs, a bunch of joints, a bunch of things that we didn't know about yet. The edition was going to be published, it wasn't even out yet, it wasn't printed yet when we did the recording we had exclusive access to it and by that we saw a new face of music that we didn't know and said, it would really be worth a try.

Let's talk more about this and what is otherwise heard on this disc and I think it is a mark for this disc, a different Beethoven, obviously different and not only because of the instruments and the sound of the instruments, but also because of the musical conception. Would you like to tell us which Beethoven is that you see on this disc?
Beethoven holds as personality, it seems to me that he is becoming something more extreme in everything that I considered to be typical of him, he becomes more extreme. In the 20th century there was a tendency to see Beethoven very structurally, very formally. He is, we must not forget, an extreme personality. Moreover, the colors of the instruments have inspired us very much, as you can see on the fortepiano, the registers have each other color, the sound suddenly exceeding the strength threshold becomes harsh, which we are not used to in the modern piano, everything is rounded, everything is beautiful, it remains somewhere in the sphere of beauty and here the aesthetic is much more diverse on these instruments, we understand in a way its madness on these instruments. And from the point of view of the edition that I used, the changes are much more on the violin than on the piano are related to the arches, to the portamento, which is a kind of slide between the notes, all these things that were used much more during that period, very short accents and so on.

Tell us about these tools themselves, which some of us, in fact, can only see in a museum.
Unfortunately, indeed, in Romania these instruments can not be heard except only for the one in Cluj, which was acquired four to five years ago. The tradition of restoring and copying them, already dates back to the 70s and 80s, but it has not spread so much and especially not yet to us. The harps already have a longer history, but of course each fortepiano is very different from the others, so they are always experimental instruments. Each builder tried to bring an added novelty, an innovation, another pedal. I now have one at home with six pedals. So it's very hard to find a prototype and copy it. Some tools have been copied but it is generally expensive, obviously, but I am confident that this will come in the future. It takes a little longer, but I have the impression that they will spread to us.

The tool that you made this recording, in fact, since when is it? What is the year of construction?
He's a copy, actually. It's not an original, but it was copied from an original from about 1815, so the original was a slightly Viennese fortepiano, made by Jacob Bertsche, a well-known sculptor of the time, and the copy is contemporary. He's 10 or 15 years old, but he was copied by one of the best builders.

Tell us a little bit about your relationship with the violinist you're appearing with on this disc. How did the relationship with her start and how did it develop? What is the history of your artistic relationship?
Lina found me through a common acquaintance, an organist, to search for exactly a fortepianist or a forcepianist for a Beethoven project. So she already had this idea to record. In fact, she wanted to study Beethoven's sonatas as thoroughly and as intensively as possible, and eventually a recording would be made, and we met entirely by chance in Vienna, one day through this common acquaintance, and I said, let's try to sing. We met the next day and played two or three Beethoven sonatas, although we hadn't played them in a while, but it was like a kind of love at first sight. We got along extremely well at first. She has already proposed a concert in Spain, which we gave before the start of the pandemic and there were other projects, of course, many of them cancelled, but fortunately we managed to make the recording, which was the most important for this year and we hope to continue to work together. We already have some ideas with a cellist, to record a CD of trios, just like that, on historical instruments. So let's hope that once the waters calm down we can continue with our ideas.

When you play music on these instruments that are completely different from the usual instruments, do the performers propose to recreate a museum or offer a different kind of experience? You mean it's a return to the past or is it a different look at the present and the future?
I think it is a different look at the present, because a return to the past does not have so much relevance to the modern public. It seems to me that when we interpret these tools we simply offer a different perspective. We have no way of knowing exactly how the music was played. People were different, people heard differently, so they perceived music differently anyway. The instruments, we can somehow know what they sounded like, but, again, the halls were different, everything was different. After all, we really can't recreate like in a museum where you see a painting, but it seems to me that after more than a century of interpreting the same works on the same instruments, it's a breath of fresh air, so to speak, it's a new facet of the same works, which still rests on something palpable, something we know is part of the truth.
Cristina Comandașu