Disk of 2021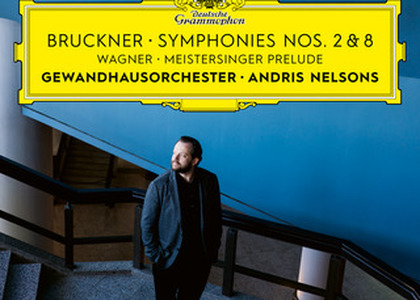 Leipzig 'Gewandhaus' Orchestra and conductor Andris Nelsons - Music box, March 22nd, 2021
Deutsche Grammophon record label released a new album on the 5th of February. It was a part of the Bruckner series signed by conductor Andris Nelsons and the Leipzig Gewandhaus Orchestra. You can find the 2nd and 8th symphonies on this new album, along with the overture of the opera The Master-Singersof Nuremberg by Richard Wagner.
Nelsons used this juxtaposition - Bruckner's symphonies and orchestral works by Richard Wagner in the first album, which was released in 2017. No doubt that it was possible given the ideational links between these types of music.
Taking into account the version of 2021, the series reached volume 5 - the 2nd, 3rd, 4th, 6th, 7th, 8th and 9th symphonies were also published.
Andris Nelsons, the 42-year-old Latvian conductor, is currently the musical director of two major orchestras on different continents: the Boston Symphony Orchestra and the Gewandhaus Orchestra in Leipzig. If we look only at his record projects, we can see all Bruckner Symphonies - with Gewandhaus and the Shostakovich Symphonies - with the Boston Orchestra; This latterhadmonumental success; the proposed interpretations being truly memorable.
It is true that the international critics welcomed The Bruckner integral to a lesser extent, but the connections between Gewandhaus and Bruckner were, in fact, part of the orchestra's history.
Bruckner's Second Symphony was recorded in a concert on December 8th, 2019; it was the second version proposed by Bruckner for this score.
As expected,no one can't help but be impressed by the speech of the wind instruments from the Brucknerian repertoire; especially when it is performed by a good orchestra. The wind instruments, especially the brass ones were impressive, even if there could be a little more precision. Maybe the musical vision in general should have been conceived as cerebral, rather than emotional - but, at the same time, I think it's just as important that this music still speaks to today's people, so I fully understand Andris Nelsons' approach. A true philosopher of music, Anton Bruckner - for the people of the 21st century; the show being performed by a German orchestra with a history of hundreds of years, conducted by a visionary and very talented conductor.
Cristina Comandașu