Disk of 2021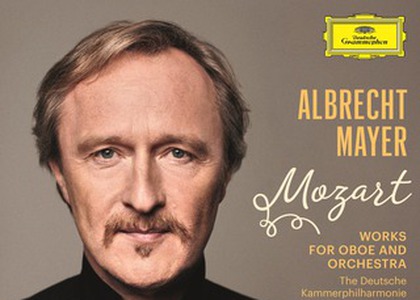 Oboist Albrecht Mayer and the Bremen German Philharmonic Chamber Orchestra - Music box, April 12th, 2021
I invite you to listen to Mozart - but a unique Mozart, performed at the oboe by one of the greatest performers of this instrument that operates today: the oboist Albrecht Mayer, with the Chamber Orchestra of the German Philharmonic in Bremen. It is a very new record, released at Deutsche Grammophon on the 9th of April.
It may seem strange that even today we discover new things about Wolfgang Amadeus Mozart, and Albrecht Mayer gives us a score we know very little about: a concert in F major for oboe and Mozart's orchestra, of which only a solely sketch of a single part has been preserved, an Allegro with catalog number kochel 293 - 416 f, a sketch of a concert created either in 1778 or in 1783.
Albrecht Mayer and the Chamber Orchestra of the German Philharmonic in Bremen recorded a version completed by Gotthard Odermatt, a contemporary Swiss composer, himself an oboist.
Albrecht Mayer has recorded in the past the only oboe and orchestra concerto completed by Mozart, catalog Kochel 314, on a 2004 album.
17 years later, Mayer returns to Mozart, one of his constant repertoire loves. This time, with another concert for oboe, harpsichord and orchestra, transcribed after the KV 299 Concerto for flute, harp and orchestra. Vital Julian Frey, a 41-year-old Swiss harpsichordist, is with Albrecht Mayer.
Albrecht Mayer is the most well-known and appreciated oboist of the moment in the entire world . At the age of 55, he enjoys an enviable fame - in addition to an intense solo activity, he is also an instrumentalist in the famous Berlin Philharmonic. In the last 14 years, he has released 10 author albums at the well-known Deutsche Grammophon house, along with numerous other appearances on compilation albums. The discs reflect his interest in expanding the oboe's repertoire, either through new works or through transcriptions of well-known opposites. On his latest album, released on April 9th, 2021, Albrecht Mayer proposes other Mozartian works, in transcription for oboe and orchestra: Ave verum, Rondo KV 373, two concert arias, along with the motet Exsultate jubilate. The voice of the coloratura soprano is replaced by the warm and penetrating timbre of the oboe - an inspiring audition.
Cristina Comandașu