Disk of 2021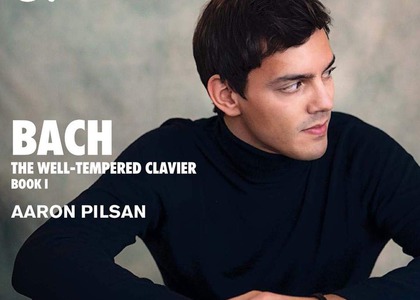 The piano player Aaron Pilsan - book I item from "The Well-Tempered Clavier" - Music box, April 26th, 2021
I propose the first book from "The well-tempered Clavier" by Johann Sebastian Bach - a marvelous collection recorded by pianist Aaron Pilsan for the Franco-Belgian music group Alpha Classics. The album has been released all over the world on March 26th, 2021.
Aaron Pilsan is a 25-year-old Austrian pianist - I listened to his records as an accompanist for cellist Kian Soltani. Kian Soltani was also a guest of the Enescu Festival in 2017 when he performed with the Transylvania Philharmonic Orchestra of Cluj-Napoca. However, it is the first time we listen to a CD with a recital performed by Aaron Pilsan - a pianist considered a child prodigy, but who also beyond childhood, kept his international pianist stature, carefully building his career that brought him, lead singer or accompanist, on the great stages of the world.
Bach has been close to him ever since his childhood - so his project of recording the full "Well-Tempered Clavier" is not surprising, from which we are listening today book I. A gem of universal literature, an answer to a practical and theoretical problem, that of moderation, offered by a genius - this is "The Well-Tempered Clavier," which shows us the variety of possibilities given by major and minor tonalities built on the 12 existing sounds of a halftone to halftone within an octave. Interpreting Bach has become difficult because there are so many angles of approach, so many ways, shapes or forms of interpretation, so many ideal examples from the past. Quite a challenge for a 25-year-old pianist, no matter how gifted he may be! However, I realize that Aaron Pilsan did not think about any of this when he approached this masterpiece: he does not aim any historical vision, nor a classical one.
If anything, I am a man and a piano, having a dialogue about brilliant music; Pilsan does not even aim to offer a shy view point on this score but guides us in a world full of treasures, which he wants us to discover. If you are looking for a valuable musical interpretation and also an easily approachable performance by the 25-year-old audience today, there it is under the fingers of a talented 25-year-old pianist, maybe not perfect, yet very convincing in his honest and carefully constructed speech.
Cristina Comandașu